Adware Report: Aluria AntiSpyware Review
Product: Aluria AntiSpyware 4.0
Price: $29.99
Company Info: Aluria Associates/Earthlink
Editor Rating: 4 stars



Download Aluria AntiSpyware




Click for more info
Pros
+ Beautiful user interface
+ Excellent spyware removal functionality
+ Some additional "evidence eliminator" functionality built in
+ Frequent updates to spyware definition files
+ Great customer support
+ Free spyware hotline (1.888.627.4650 option 2) available to the public
Cons
- Frequent popup alerts
- Sluggish scan and removal time
Aluria AntiSpyware Product Review
A virus can ruin your computer. Spyware can ruin your life.
This catchy phrase is more than just a marketing gimmick. While a computer virus can delete files and corrupt your data, spyware can monitor your surfing habits and send them to people you dont know. It can cause objectionable material to appear on your computer at the worst times (what could be worse than a porn pop-up during an important presentation?). It can hijack your browser and expose your children to material you dont want them to see. Spyware Eliminator is an effective tool that can protect you against these problems.
The latest release of Aluria AntiSpyware includes a major revamping of the user interface as well as new technology that may set a new standard when it comes to fighting spyware. The software has a large userbase as well. With more than 35 million copies of their software sold to date and widespread adoption by both AOL and Earthlink, Aluria is a major player in the anti-spyware industry.
Aluria's frequent updates to Spyware Eliminator make it one of the most powerful spyware removal tools on the market. What's more, Spyware Eliminator also offers a variety of evidence elimination functions that will clean up after you and prevent others from spying on your surfing habits. This is becoming increasingly important at work, as more and more companies implement monitoring software to keep an eye on their employees surfing habits.
Like other good antispyware products, Spyware Eliminator will immunize your computer against common invaders, such as browser hijackers, unwanted browser toolbars, and pop-up advertising programs. It provides thorough coverage by detecting spyware running in memory, stopping "drive-by" installs, examining your startup settings, and eliminating registry changes made by intruding programs.
We discovered no problems on either Windows XP or Windows 2000, unlike some of the other products which caused serious browser slowdowns on Windows XP.
Overall, spyware eliminator earned a top position because of sheer effectiveness, frequent updates, excellent refund policy, and prompt customer support.
Usability
Installation was straightforward, but be sure to reboot after installation or you won't get the latest update file.
Spyware Eliminator has a well-designed user interface that is simple to use. The first time you run the program, you will be presented with a "Security Center" screen that shows you what Aluria products you have installed. Like other major security vendors, Aluria offers an integrated solution that includes anti-spyware, anti-virus, and anti-spam functionality.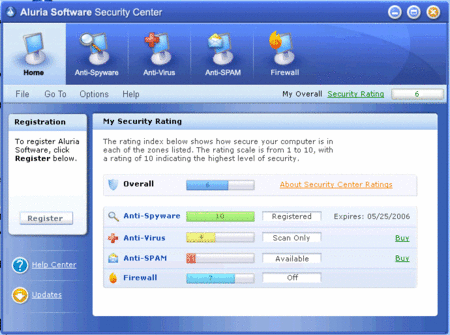 To start removing spyware, click on the "Anti-Spyware" button at the top of the screen. This leads you to a large "Scan Now" button that you press to begin the process.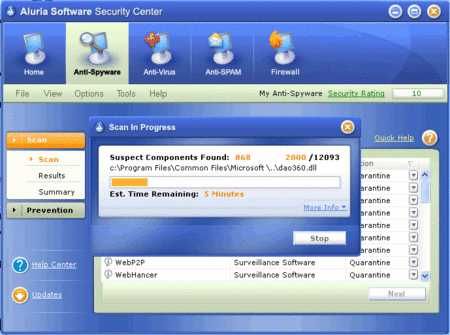 Scanning on our Windows 2000 test computer took only 11 minutes, which was a reasonable scan time in our tests. We watched the files being scanned and verified that Spyware Eliminator does a full scan of your hard drive and avoids taking shortcuts that can ultimately leave a lot of spyware on your PC.
The removal process can be sluggish. On our initial scan, it took over 30 minutes for Aluria to complete the removal process. A reboot and repeat scan was required to get rid of lingering pests.
One drawback of the latest release is the recent addition of popup "toast" windows, alerting you to every memory-resident virus or spyware that the program finds. This can cause real trouble if you happen to have one of the stubborn spyware programs that resists removal.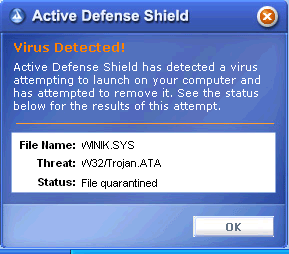 Frequent alert windows are one drawback of this otherwise excellent product.
Spyware Removal
We ran Spyware Eliminator through our Spyware Effectiveness Test, which measures the effectiveness of spyware removal products against a bevvy of both common and rare spyware programs. It did not flag any legitimate applications as spyware.
In our spyware removal effectiveness test, Spyware Eliminator did extremely well for detecting and disabling spyware. It detected 77% of the spyware in our test, while disabling 73% of it. This is extremely impressive considering that the latest version of our test includes many new spyware programs, some of which are less than a month old. What was truly an accomplishment though was the detection and removal of CoolWebSearch, Spyware Falcon, and SpyAxe. Spyware Eliminator is only one of two commercial products (the other being Spyware Doctor) that we know of that successfully removes all three of these stubborn programs.
We also tested Spyware Eliminator against keyloggers. Keyloggers aren't the ordinary type of spyware that is used for marketing purposes. Instead, keyloggers record your actual keystrokes and then send it on to a third-party. They are usually used to record passwords, credit card information, PIN numbers, and other personal information. Aluria claims that Spyware Eliminator is effective against dozens of keyloggers, and we found that it did disable some of the more common ones. In contrast, Spy Sweeper crashed while these keyloggers were running.
A common theme we encountered in this round of testing is that the detection rate has dropped across the board for nearly every product we tested. We can only assume that the anti-spyware companies are having a hard time keeping up with the bad guys. The good news is that different spyware removers disable different programs, so if you want excellent coverage, you should run two anti-spyware products on your PC. Hopefully this situation will improve in the future.
Rollback
Spyware Eliminator allows you to rollback any changes it makes. This is helpful if you have wiped out spyware that is needed by an otherwise useful program (Real Player and Kazaa are typical examples of software embedded with spyware on your PC that wont run without it).
Customer Support
Aluria's customer support was quick to respond to our test emails. In particular, we pointed out a piece of spyware that Spyware Eliminator failed to remove, and the fix was included in the following week's update. Aluria has a solid track record of releasing frequent updates to their signature file (sometimes every other day or so), and the latest update included updates for some of the latest spyware programs to hit the net.
What we really like about Aluria however, is their "Spyware Hotline" (1.888.627.4650 option 2). Anyone can call this hotline for help with a spyware-related problem, whether they are an Aluria customer or not. This is over and above the usual "self-support" forum that most companies provide.
Finally, Aluria also offers a "no-questions-asked" customer return policy, which we have verified with a number of their customers.
Other Options
Aluria Spyware Eliminator 4.0 includes "Active Defense" shields, which is improved functionality that provides you with real-time protection against spyware drive-bys and other hostile invasions. And of course, this version also includes a scheduler for running spyware scans at night when you aren't using your PC.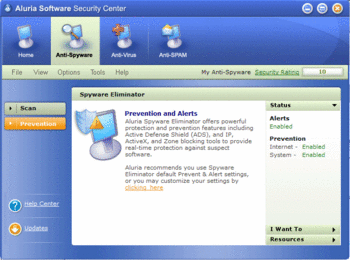 Summary
Spyware Eliminator offers excellent protection and immunization against annoying Spyware, a well-designed user interface, and frequent updates of their spyware definition files. You also get additional functionality that can be used to remove evidence of your surfing habits on a regular basis and access to a toll-free support line. Having passed our demanding testing process, we can recommend Aluria's spyware eliminator as one of the most effective spyware fighters on the market.
However, while it disabled the majority of spyware on our system, we did uncover some gaps in its coverage. For these reasons, we recommend that you back Spyware Eliminator up with another program such as Spyware Doctor or ZeroSpyware. These tools provide overlapping coverage with Aluria Spyware Eliminator and running them in conjunction will ensure that your machine will be as close to spyware-free as possible.
Purchase Price: $29.99
Free Trial: Yes
Download Spyware Eliminator

All articles and reviews are copyright 2004, Gooroo, Inc. All Rights Reserved.

Adware Report (https://AdwareReport.com) delivers objective news and reviews about the best and the worst spyware removal products.