Adware Report: Pest Patrol 4.4

Pros
+ Good overall detection and spyware removal capabilities
+ Comes with additional spyware blocker programs that monitor memory and browser cookies.
Cons
- Confusing user interface
- Flagged legitimate software as spyware
- Lacks a built-in scheduler
Pest Patrol Review
We found Pest Patrol to be a good product with some annoyances. It is also priced more expensively than our other higher ranked products, which hurts its overall rating.
It can detect spyware running in memory, stop browser hijackings, examine your startup settings, remove tracking cookies, and eliminate registry changes made by intruding programs. Pest Patrol did not alert us when spyware was installing itself on our computer, but overall has good spyware removal capabilities.
Usability
At first, we found Pest Patrols user interface to be quite pleasing. But it quickly became confusing as we navigated through rows and rows of tabs and buttons. After just a few minutes of use, the program felt cluttered, and we wondered if anyone at Pest Patrol had thought about usability.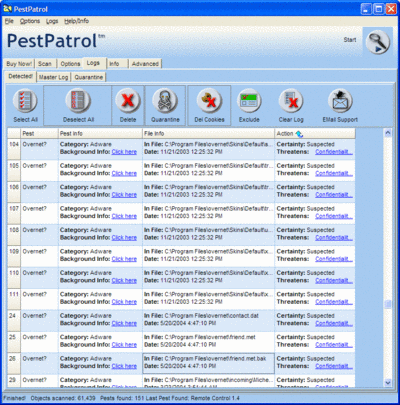 Pest Patrol comes with a few memory-resident spyware blocker programs that monitor your computers' memory and browser cookies. We found these programs to be ineffective and somewhat intrusive.
Spyware Removal
To run a scan, you have to first select a drive and then press the scan button. While simple enough for a skilled computer user, this process is not all that intuitive and will be very confusing to the novice.
Pest Patrol took about 20 minutes to do a full scan which was slightly faster than the higher rated products we tested. Pest Patrol performed a thorough scan on every file in our system and didnt take any shortcuts.
However, we uncovered a major problem with Pest Patrol. During our test scan, it flagged innocuous files used by a very popular file sharing application (such as jpgs, bmps, and text files). In all, it discovered 151 bogus traces including a winzip executable containing nothing but mp3s. We felt this was quite misleading and wondered if Pest Patrol is really as thorough as it claims to be.
Quarantine
Pest Patrol had a very annoying quirk here. We pressed the quarantine button only to receive a message that quarantining was no longer required and that delete was completely reversible. As with so many other software companies, it seems the people at Pest Patrol didn't really stop to think about usability.
Other Options
One feature that we really liked about Pest Patrol is the built-in library that had thorough and informative descriptions of most of the spyware programs we have ever encountered.
One feature we hated was the lack of a scheduler that would allow us to run scans at night when we are away from the office. We currently use another product for this, and each morning we are surprised to find up to a dozen new spyware traces on our computers from the previous day.
Most of the other built-in options that Pest Patrol has (such as a list of running processes or startup files) seemed to be last-minute additions to the product. These options made the user interface more confusing than it needs to be and should be removed, or at least hidden.
Support
The product does not include a help file. Instead, the help sends you to their website which contains a getting started section as well as a tutorial. The tutorial was confusing if you really need some hand holding to run this product, we feel youll find it a frustrating and tedious experience wading through the online documentation.
The company offers email and forum support. Email inquiries have up to a 24 hour turnaround time.
Summary
Pest Patrol is a good spyware blocker, although it is priced higher than our other top rated tools and lacks a scheduler so you can't scan while you're away from the computer. It has very good spyware removal capabilities, but because of its over-enthusiastic tendency to flag file sharing applications as spyware, we feel this may be a better choice for small business or corporate use.
Purchase Price: $39.95
Free Scan: Yes but it wont delete the spyware it finds.
All articles and reviews are copyright 2004, Gooroo, Inc. All Rights Reserved.

Adware Report (https://AdwareReport.com) delivers objective news and reviews about the best and the worst spyware removal products.