Adware Report: Spybot S&D stability problems
We receive a considerable amount of email challenging our claim that Spybot S&D has caused stability problems on our Windows XP test platform. Specifically, this program slowed Internet Explorer to a crawl, a problem we were able to fix by running another top spyware removal tool. A little research showed the other users weren't quite so lucky. From the looks of it, Spybot S&D has crashed more than a few PCs, some to the point where a complete re-install of the operating system was required.
And yet despite the frequency of these claims, nearly every report of Spybot S&D instability has been met with criticism, if not open hostility. Apparently, some people feel as strongly about Spybot S&D as others do to more traditional causes, such as religion or politics.
Update: After several months of just hearing about these problems, we saw it with our own eyes. The latest version of Spybot S&D rendered our server unusable after a scan. We were bombarded with popup error messages every few seconds ... a few from Spybot S&D, most from spyware programs which had been incorrectly disabled.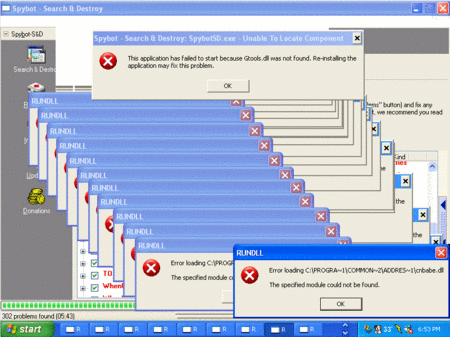 Screenshot of Spybot S&D crashing our server
So while we do stand by our test results, we don't ask that you take us on our word. One reader asked that we produce a list of internet links to reports of Spybot S&D causing computer and operating system crashes.
The following quotes are just a few that can be found through a casual Google search, with links included. None of the websites referred to below are associated in any way with Gooroo or Adware Report.
Adaware kept finding the same stuff and wouldn't remove all of it. Spybot S&D kept making my computer crash.
We no longer recommend SpyBot S&D. Version 1.3 has too many stability problems and frankly seriously wrecked some of our clients computers. We have used/recommended SpyBot for many years, until 1.3 came out. It the problems are addressed, we would probably recommend it again.
Apparently I don't know how to use Spybot S&D and Ad-aware properly. Using the to remove spyware has caused Windows to destablize and/or made it impossible to use some programs - inculding Spybot and Ad-aare so that I couldn't get back in to restore what had been removed.

After running Ad-aware or Spybot none of the System Restore points were available even though there had been several before removing the spyware.

http://help.lockergnome.com/index.php?showtopic=22691
And here are a number of quotes from the CNET User Opinions page. This thread was particularly critical of Spybot S&D, with over 112 reports of Spybot S&D problems. Beyond tens of reports claiming that Spybot S&D has hung various operating systems are reports of false positives, overlooked spyware, permanent operating system crashes, and even allegations that Spybot S&D is installing spyware. While we are reluctant to believe all of these claims, there are enough reports in this thread alone to warrant caution against using this product.
"A good product gone bad" I have used SpyBot for a number of years. When this update became availabe, I quickly uninstalled the 1.2 and installed this one. I have run it three times and it has found the same 5 "DSO Exploits" and told me it removed them three times. I uninstalled and went back to the 1.2 which no longer has updates available and it removed the five files and found 4 more than 1.3 did not identify. I filed a bug report, but intill the product is fixed, stay with the 1.2, even with the outdated March updates or move onto a different program. Very disappointing as using Ad-Aware and Spybot has been my normal routine for a long time now. At this point, I have uninstalled Spybot completely since my 1.2 can't be updated any more.

"WARNING TO XP/ME USERS!!!!"
This is to warn all windows XP and ME owners NOT to use this new version. It tries to creat a system restore point when you first use it and then freezes up your computer!! You will then find that all your system restore points are screwed up and dont work. Only AFTER it tries to create a system restore point,and the program freezes, that a message comes up that says you can turn it off. This stinks!! The programmer shoot be SHOT for this terrible feature. They should spend more time trying to add more spyware detections then screwing up peoples good computers. And dont believe the bull they are doing this for FREE. LOL. And you must believe in the tooth fairy. Get real. This program has gone down the drain!!! And to believe CNET gave it five stars. What a joke. Guess CNET doesnt use XP or ME. So much for their credibility.

"beta software full of critical bugs- do not download"
I used 1.2 for quite a while (Together with Adaware) but will never reinstall 1.3 until the critical bugs have been fixed.This update installs something named "teatimer" which runs as a background process and freezes your entire system after 30 minutes running (happend on two of my three systems).There are also NO updates (for the definitions) for almost three months - so you run at high risk relying on Spybot.Malware that can seriously harm your system is released daily, so up-to date definitions are a MUST for this type of application.Spybots database is definitely outdated.It used to be a nice program, but with all the features not completely implemented this very much looks like a public-beta test.Serious bugs have not been addressed in 1.3(Spybot will break your internet connection when removing some spyware.I sent them a bug report explaining the issue but never got a response.In addition, this has been posted in their support forums by several users so they know about the problem), instead more features have been added (teatimer) which are not working as advertized.dont get me wrong, I donated for 1.2 (and know many who did),because I liked it and wanted to support the developement of the project.However, Spybot 1.3 should never have been publically released in its current state.

"DO NOT INSTALL THIS SOFTWARE!"
Im a 25 year IT executive with a Fortune 500 company. I have never posted here before, but feel compelled to write. I and many of my staff have personally used Mr. Kollas SpyBot S&D since the day of its inceptions and have been a major supporter of this excellent program until now. Based on our evaluation of SpyBot S&D ver1.3Final, I DO NOT recommend this software any longer, and it SHOULD NOT be installed or utilized. Further significant concerns have arisen as to the integrity of Mr. Kolla and his associates.

http://earthlink.com.com/3302-8022_4-10289035.html?pn=1&fb=2
For a long time, I used both Ad-aware and Spybot. Tried the new version of Spybot and was quite disappointed. As fast as adware/malware evolves, the lack of updating is a problem. It also gave me a lot of false positives. Even claimed my own site had CoolWebSearch. They never replied when I e-mailed them about this. I just finished reformatting my system, (one too many "experiments") and didn't bother re-installing it. Ad-aware has handled the task quite nicely.

I installed Spybot and after running it a time or so recived error message something like this: detected two changes, ignore or accept. I tried to delete the error message but couldn't. Tried clicking the ignore or the accept and one wouldn't let me move on and the other let me miove on but my computer was crashed bad. My DUN was deleted and I couldn't create another. I tried running System Restore but it wouldn't run. I ran Recovery Disk which re- installed all my software. Computer works ok now.

http://www.freedomlist.com/forum/viewtopic.php?p=120640

New spyware/malware programs are being released constantly. The latest variants include auto-updaters and "stealth" code that is growing in sophistication by the week. We recommend that if you are going to rely on a spyware removal program that is currently five months out of date, that you unplug your computer from the internet before using it.

All articles and reviews are copyright 2004, Gooroo, Inc. All Rights Reserved.

Adware Report (https://AdwareReport.com) delivers objective news and reviews about the best and the worst spyware removal products.