Adware Report: Spy Hunter Review
Product: Spy Hunter
Price: $29.99
Company Info: Enigma Software Group
Editor Rating: 0 stars




Click for more info
Pros
+ none
Cons
- Riddled with false positives
- Disabled little of the spyware it detected.
Spy Hunter Product Review
This bare bones, low quality program has few features and failed to remove any of the common spyware we tested for. In addition, it detected a number of spyware programs that were not really installed on our test computers. It is currently the poorest performing product of any we tested, with an overall rating of 21.5%.
Usability
Spy Hunter installed with no problems on both of our test PCs.
Spy Hunter has an intuitive, if a bit simplistic, user interface. The Start Scan button was prominently placed, and the basic options you would expect to find in a spyware removal tool are all there: Start Scan, Stop Scan, Start Remove, and Update.
A full scan took about 15 minutes on our Windows XP box. One annoyance about the program is that the scan results were limited to a very small portion of the screen. It was very difficult to read them because the window wasnt big enough, and the screen cant be resized.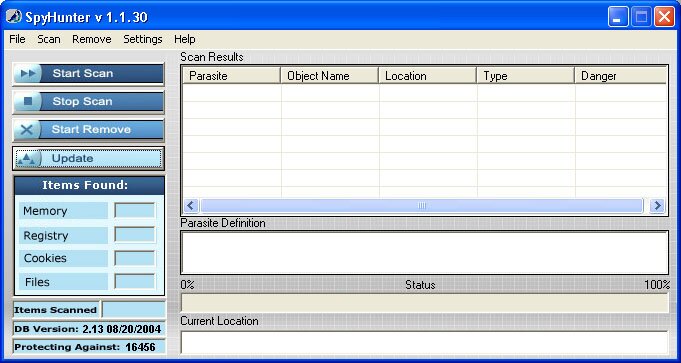 Removal
While Spy Hunter detected 46% of the spyware on our system, it disabled only 15% of it. This was the poorest performance of any of the products weve tested to date.
The latest spyware definitions update file is dated 9/2/2004 and contains 16,968 signatures. This is extremely out-of-date for an anti-spyware tool and this product will not protect you against many of the latest spyware programs released in the past three months.
Rollback
Spy Hunter does not include a rollback or quarantine feature. Rollback is absolutely critical in case a scan accidentally breaks an existing piece of software. On the other hand, because Spy Hunter doesnt actually disable any spyware, the point is moot.
Other Options
Spy Hunter includes only a single option: start scan on boot. It does not include a scheduler, which is another important function found in the better spyware removal tools.
Summary
We recommend that you avoid this product at all costs. It failed to remove any spyware in our tests and the scan results were filled with false positives a probable marketing ploy designed to separate fools and their money.
Purchase Price: $29.99
Free Trial: No free scan is offered.

All articles and reviews are copyright 2004, Gooroo, Inc. All Rights Reserved.

Adware Report (https://AdwareReport.com) delivers objective news and reviews about the best and the worst spyware removal products.