Adware Report: PAL Spyware Remover 1.1 Review
Pros
+ None
Cons
- Below average detection and removal capabilities
- 90s era user-interface
- Hasn't been updated since March, 2004
PAL Spyware Remover Product Review
PAL Spyware Remover is a disappointing product. It scored rather low in our testing results, and the user interface was outdated and difficult to use.
Usability
PAL Spyware Remover installed without any hassles on both of our test computers.
With a user interface straight from 1996, PAL Spyware Remover screams retro. The programs functions are located on 7 Win95-style tabs. The important one, Scan, is the second one in.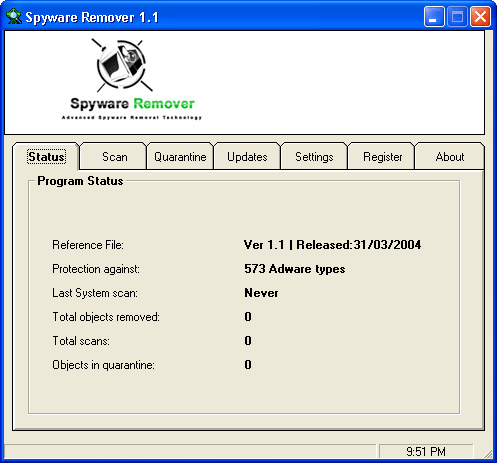 Removal
PAL Spyware Remover took over 20 minutes to scan our hard drive. We confirmed that it actually scanned every file and did not take shortcuts.
However, the latest version of the program has fewer than 600 spyware definitions in it and the results were very disappointing. While the program detected 39% of the spyware we installed, it disabled only 15% of it. Furthermore, the scan results were riddled with "false positives", which makes the program appear to be more effective than it actually is.
Rollback
Strangely, while PAL has a quarantine feature, it lacks a rollback feature. Once spyware has been quarantined, it can only be deleted.
Other Options
PAL Spyware Remover lacks a scheduler, and can only be configured to run automatically during Windows startup. If you start up your computer in the morning and allow it to run for 20-30 minutes unattended, then this might not be a problem. Otherwise, you will have to remember to run daily scans on your own.
PAL Spyware Remover does have a live update feature, but it is turned off by default. Youll have to navigate to the Settings tab to turn it on.
Summary
The combination of a clunky user interface along with poor detection and removal capabilities makes PAL Spyware Remover a no go. We suggest you look elsewhere.
Purchase Price: $29.95
Free Trial: No free scan only
All articles and reviews are copyright 2004, Gooroo, Inc. All Rights Reserved.

Adware Report (https://AdwareReport.com) delivers objective news and reviews about the best and the worst spyware removal products.