Adware Report: Giant AntiSpyware Review
Pros
+ Excellent spyware removal functionality
+ "SpyNet" community shares new spyware definitions between Giant AS users
+ Frequent spyware definition updates
+ Beautiful and easy-to-use user interface
Cons
- new product
- Some user interface annoyances
- A few support complaints
Giant Antispyware Product Review
Giant has made an impressive entry into the antispyware market with the introduction of their novel "SpyNet" technology. Giant users benefit from the combined learning of hundreds of thousands of computer users the world over. When new spyware is detected by just a few people on the network, everyone gets protected. Despite the newness of the product, it is already proving very effective. The latest version claims to have over 1,000,000 signatures in their database so far - over thirty times what any other anti-spyware vendor currently claims. While obviously this number is not an even comparison to other vendors' claims (and they never are), what is obvious is that Giant's product offers extremely effective protection against spyware.
The product provides thorough coverage by detecting spyware running in memory, stopping browser hijackings, examining your startup settings, and eliminating registry changes made by intruding programs.
Going beyond the raw effectiveness of the product, Giant AntiSpyware installs flawlessly, auto-configures, and has a beautiful user interface.
We were very impressed with this product and while it was easily a contender for our #1 position, the relative newness of the product and some support issues held it back.
Installation
Giant Antispyware installed perfectly on both our Windows 2000 and Windows XP test platforms.
Usability
Giant AntiSpyware has a well-designed user interface that is beautiful and easy-to-use.
The first time you run the program, the Giant Setup Assistant will open and guide you through the setup process. By default, the program will connect you to SpyNet as well as set up automated scanning at 2am. This is a nice touch and a marked departure from most antispyware products which require you to set this up manually.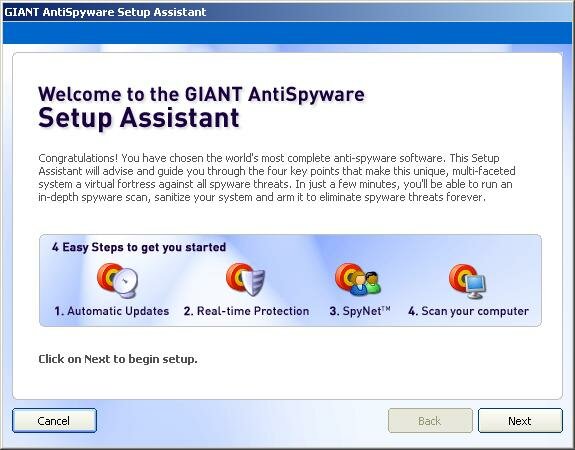 There are a few annoyances with the user interface however. If you schedule daily scans and are away from your computer for a few days, you will have to contend with closing a "scan result" window for every day you were away. This would be a very minor glitch, but clicking the close ("X") button in the top right of the window doesn't dismiss the window - it loads the entire application into memory. For those with slow computers, this can result in a lengthy wait while you suffer through numerous loads. Another annoyance with the program are the frequent "pop-up toast" alerts that often appear while you're working. It would be very nice if Giant provided a way to suppress these windows, or at least only show the most critical ones.
Giant AntiSpyware will guide you through to your first scan. There are two options: an "intelligent" (quick) scan, and a full (slow) scan. The intelligent scan took only 2 minutes on our Windows 2000 PC, while the full scan took only 8 minutes.
The program also installs runtime software that constantly monitors your browser homepage settings and looks for spyware that is trying to install on your PC. The program successfully blocked a number of spyware programs that we purposely tried to install.
Spyware Removal
We ran Giant Antispyware on two infected PCs running a variety of common applications. It did not flag any legitimate applications as spyware.
In our spyware removal effectiveness test, Giant Antispyware tied for first with Aluria's Spyware Eliminator. Giant detected and removed 85% of the spyware we tested it against, and it completely recovered all of the disk space used by each. Giant AS was very effective against the most common forms of spyware, but failed to catch the newer ones, presumably because few people in the SpyNet program have so far encountered these.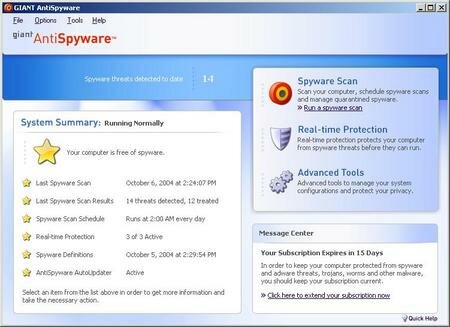 Rollback
Giant AntiSpyware lets you rollback any changes it makes. This is helpful if you have wiped out spyware that is needed by an otherwise useful program (Real Player and Kazaa are typical examples of software embedded with spyware on your PC that wont run without it).
Customer Support
Giant's customer support was quick to respond to our test emails and offers a "no questions asked" refund policy. In addition, the company now offers live chat on their website for quick turnaround of support issues.
However, we have received a number of complaints in the past two months stating the company had been slow in returning support emails, but Giant claims this was a temporary problem and everything should be running smoothly now.
Other Options
Giant includes a number of "security agents" with their software as well. These include a department-of-defense level "file shredder" as well as functionality to remove your internet "tracks" from your computer (both are located in "advanced tools").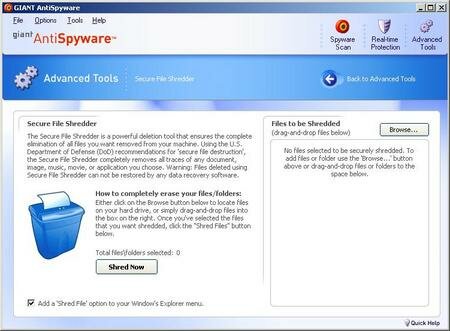 Giant Company also has an excellent online spyware library that you can click through to find out more information about the spyware programs installed on your PC as well as the companies who created them.
Summary
Giant AntiSpyware offers superior protection and immunization against annoying spyware. While it scored very highly in our spyware effectiveness testing, the product is a bit newer than others so we've adopted a wait-and-see approach to ensure that the bugs are out of the system. However, its SpyNet unique SpyNet technology, frequent updates, excellent user interface, and competitive price have propelled Giant AntiSpyware all the way to our #2 spot, displacing Webroot's Spy Sweeper.
Purchase Price: $29.95
Free Trial: Yes, 15 days.
All articles and reviews are copyright 2004, Gooroo, Inc. All Rights Reserved.

Adware Report (https://AdwareReport.com) delivers objective news and reviews about the best and the worst spyware removal products.