Adware Report: StopZilla!
Pros
+ Attractive user interface
Cons
- Provides Decent protection against Spyware
StopZilla! Product Review
StopZilla! is a well-marketed product with an attractive user interface and a compelling website. The must current release has seen major improvements in spyware protection, but nevertheless provides just an average degree of effectiveness.
Usability
StopZilla! installed without a hitch directly from their website, even on our heavily infested test PC. After a re-boot, StopZilla! was ready to scan for the first time.
The program kicked off a scan automatically the first time we ran it. But after the initial scan process is over, there's no way (that we could find) to start a new scan. StopZilla! sits in memory and automatically monitors for new spyware processes. While this does make the program transparent to the user, it doesn't appear to be as effective as a conventional deep scan process.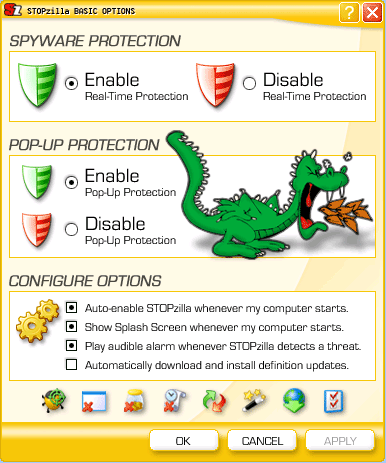 We found the interface to be very attractive and pleasing to the eye. The scan results screen in particular is well-laid out and very easy-to-understand.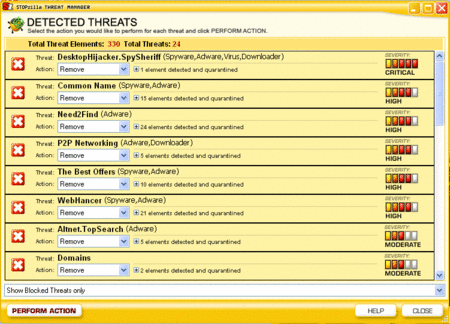 Stopzilla! features a nicely laid out scan results screen.
Spyware Removal
Scanning was fairly fast, taking less than 10 minutes on our test PC. The results were vastly improved over the previous version of StopZilla! that we tested. StopZilla! detected 62% of the spyware in our test, disabled 50% of it, and completely removed 42%. It did a particularly good job removing browser toolbars, but it failed to miss some of the most common memory-resident spyware programs around.
Rollback
StopZilla! has no rollback features - if you accidentally delete a necessary system file, there's no way to recover it.
Customer Support
StopZilla offers online and email customer support.
Other Options
StopZilla! includes some additional protection features, such as memory monitoring, homepage protection, and a popup blocker. Notably missing are a scheduler and the ability to manually kick off a scan.
The popup blocker included with StopZilla! is one of the better ones we've seen in any anti-spyware product. It not only provides you with a list of popups, but you can also look at screenshots of the popups to see exactly what was blocked. Neat.
Summary
The makers of Stopzilla! have improved their product a great deal in the past six months, but it still provides only an average level of protection.
Purchase Price: $29.99
Free Trial: Yes
All articles and reviews are copyright 2004, Gooroo, Inc. All Rights Reserved.

Adware Report (https://AdwareReport.com) delivers objective news and reviews about the best and the worst spyware removal products.