Adware Report: Agnitum Outpost Pro
Product: Outpost Firewall Pro
Price: $39.95 Single PC / $75.95 Entire Household
Company Info: Agnitum
Editor Rating: 4 stars


Pros
+ Faster than ZoneAlarm
+ Blocks many types of security threats that ZoneAlarm doesn't, including pop-up windows, in-bound attacks, unwanted ads in webpages, and known hostile websites.
+ Completely self-installing - no lengthy questions to answer about your PC
+ Provides back up defense that complements anti-virus and anti-spyware tools
+ Blocks incoming probes and attacks
+ Stops outgoing communications from rogue programs
+ Provides extensive detail about all processes running on your PC
+ Works with Mozilla Firefox
+ The best program for techies and "power users"
Cons
- A little less user-friendly than ZoneAlarm
Outpost Pro Review
Outpost Pro is an excellent firewall and probably the best value on the market. Like ZoneAlarm, it blocks both incoming attacks as well as outgoing communications from rogue programs on your computer (such as spyware, adware, trojan horses, viruses, etc...) However, it adds many features that ZoneAlarm doesn't have. Outpost Pro will block internet ads, cookies, hostile websites, popups, hidden browser windows, and dangerous file attachments.
The disadvantage to having access to this much power however, is that Outpost Pro isn't as user-friendly as ZoneAlarm. You won't get all the snazzy graphics that ZoneAlarm offers, but you'll also pay about 25% less for a product that offers much more functionality.
Note: Firewall products protect against different threats than anti-spyware and anti-virus programs, and you should always run a firewall in addition to those other types of security products. Click here for more information about firewalls.
Installation and Configuration
Installation was straightforward on our Windows XP test machine and took less than 5 minutes.
Outpost Pro was surprisingly easy to configure. While most firewall products require you to answer a number of questions, Outpost automatically configured itself for our system. This was a welcome improvement over other firewall products.
After installation is complete, you'll need to reboot before the firewall can start protecting your computer.
Usability
We were greeted with a few alert pop-ups after we rebooted. Outpost Pro, like other firewall products, raises these alerts when an unidentified program running on your computer attempts to access the internet. If you recognize the program, then click Ok and you wont be bugged about it again. If you dont recognize it, you might want to check the option that reads "Stop all activities for this application to cut it off from the internet. If you're not sure, then clicking "Allow Once" or "Block Once" will buy you some time to figure out what it is. You'll only receive one pop-up per program, but you can always change your mind later from within the program.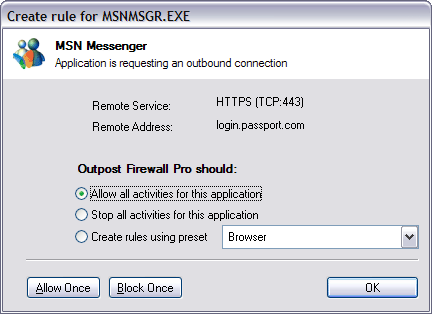 If you're just getting started at securing your computer, you may see quite a few of these pop-ups as the firewall blocks spyware or adware on your PC. Note though that a firewall program won't remove spyware - it will just disable it. The spyware will still be running in the background, using up your computer's resources. To really defeat spyware, you should have both a firewall as well as an anti-spyware program installed on your computer.
The other thing you should become familiar with is the main Outpost Pro window: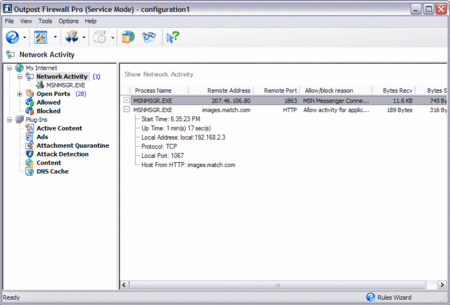 While not as pretty as ZoneAlarm, it is infinitely more powerful. Using this window, you can see every process on your computer that is communicating on the internet. You can also see the number of ads, attachments, javascripts, cookies, and other baddies blocked. Because this screen offers so much information, it might be a bit overwhelming for some users. The good news is that there's no need to look at it if you don't want to.
Thats all there is to it. You now have added a powerful layer of protection against internet threats to your computer.
Other Features
Outpost is packed with useful features that ZoneAlarm doesn't have. While ZoneAlarm stops at blocking incoming and outgoing attacks, Outpost Pro also blocks:
* Internet Ads on web pages
* Cookies
* Suspicious file attachments within email
* Hostile internet sites
* Hidden browser windows and pop-ups
Summary
Outpost Pro is a heavy-duty personal firewall that offers many features ZoneAlarm doesn't. But while it's easier to configure than Zonelabs' product, the user interface may be a bit overwhelming for the casual user. Still, this product is an excellent alternative to ZoneAlarm for people with above-average computer skills and is about 25% cheaper.
Price: $39.95
Download Outpost Pro Here
All articles and reviews are copyright 2004, Gooroo, Inc. All Rights Reserved.

Adware Report (https://AdwareReport.com) delivers objective news and reviews about the best and the worst spyware removal products.