Adware Report: Sygate Personal Firewall Pro
Product: Sygate Personal Firewall Pro
Price: $39.95
Company Info: Sygate
Editor Rating: 3 1/2 stars

Download Now!
Pros
+ Blocks incoming attacks
+ Monitors outgoing traffic
Cons
- Doesn't provide extended features of other firewall products
Sygate Personal Firewall pro Review
Sygate Personal Firewall Pro offers rock-solid protection at a reasonable price. While it's a big upgrade over the basic Windows XP firewall, it doesn't offer as many features as the other top products. If you can live without those features however, this is a great alternative that will save you a few dollars.
Note: Firewall products protect against different threats than anti-spyware and anti-virus programs, and you should always run a firewall in addition to those other types of security products. Click here for more information about firewalls.
Installation and Configuration
Installation was fast and straightforward. After installing and rebooting, we were prompted with a few pop-up alerts. You'll need to answer these once for most programs (make sure to check the box on the lower portion of the popup). These alerts inform you when a program on your computer is attempting to use the internet. If you haven't run a firewall, anti-virus, or spyware program before, you might be surprised at all of the programs leeching off of your computer.

Usability
If you never go beyond the alerts, the program will run just fine. However, there is more power there if you need it. The main user interface offers useful graphs of incoming and outgoing traffic, attack history, and a list of programs running on your PC.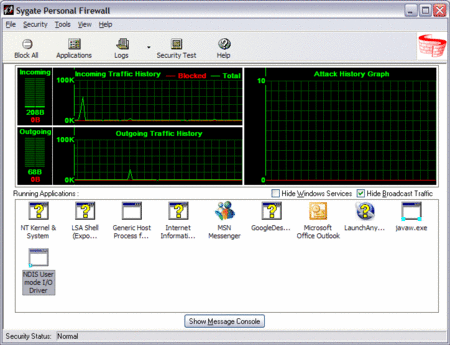 Other Features
Sygate offers an automated security-test, accessible from the main toolbar. The quick scan will look for a few common vulnerabilities, while other tests will scan for trojans and open ports.
Summary
Sygate offers a very effective firewall that will complement your anti-spyware program and add a strong level of protection to your computer. Despite it's user-friendliness, it has a number of features that will appeal to the power user. Although it does lack some of the bells and whistles of other firewalls, it makes up for them with a lower price.
Price: $39.95
Download Now!
All articles and reviews are copyright 2004, Gooroo, Inc. All Rights Reserved.

Adware Report (https://AdwareReport.com) delivers objective news and reviews about the best and the worst spyware removal products.