Adware Report: Has Microsoft Partnered With a Known Spyware Company?
Even while Microsoft continues to push forward with their "anti-spyware" effort, new evidence indicates that they have teamed up with known spyware company Hotbar. Are millions of computer users now at risk of infection via Windows Update?
While conducting testing of firewall products this evening, we were greeted an ominous pop-up alert while opening Microsoft Word:

Click to enlarge
For those of you who aren't familiar with Hotbar, they are a notorious spyware company that produces software well-known for the problems it causes in Microsoft Windows. (More information about Hotbar can be found here)
This couldn't be right. We run countless anti-spyware programs on our computers and it is very rare for us to install anything new. And when we do install something new, we're very suspicious of it, probably more suspicious than most internet users. How could Hotbar have ended up on our computer?
We then ran a scan with several anti-spyware tools, including Microsoft's very own AntiSpyware product. None of the top tools found anything.
Next, we went to Hotbar.com, and lo and behold - Hotbar is proudly displaying the "Microsoft Certified Partner" logo on their homepage, confirming that someone at Microsoft has approved some type of partnership between the two companies: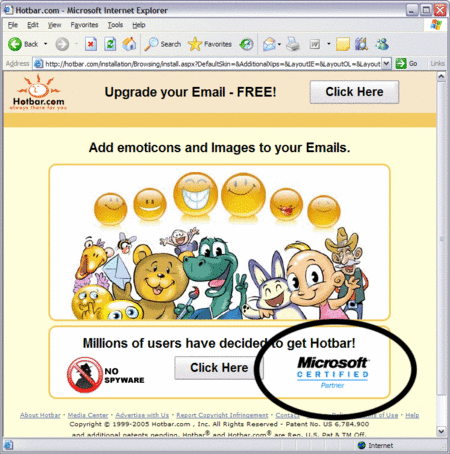 Hotbar's website on April 20, 2005 clearly showing they are now a "Microsoft Certified Partner"
What is even more suspicious is that this happened for the first time today - just two days after Microsoft pushed a mandatory software update to our computer. The alarm bells should really start going off in our heads when we consider the fact that Microsoft's very own anti-spyware program didn't detect Hotbar or prevent it from being installed.
Is it possible that Microsoft is now installing spyware on to millions of PC owners' computers without their knowledge or consent?

All articles and reviews are copyright 2004, Gooroo, Inc. All Rights Reserved.

Adware Report (https://AdwareReport.com) delivers objective news and reviews about the best and the worst spyware removal products.