Adware Report: Counterspy Review
Pros
+ Attractive user interface
+ Decent spyware removal functionality
+ Some additional system tools built in
+ Inexpensive
Cons
- Definitions seem to be out of date
- Constant popups and other usability problems
Counterspy Product Review
Counterspy, a rebranded version of Microsoft's AntiSpyware product, performs slightly better than its parent product but shares many of the same quirks.
Like other good anti-spyware programs, Counterspy will immunize your computer against browser hijackers, unwanted search bars, and pop-up advertising programs. We discovered no problems on either Windows XP or Windows 2000, unlike some of the other products which caused serious browser slowdowns on Windows XP.
Usability
Because Counterspy is a rebranded version of Microsoft's product, the interface has a similar feel, although the graphics are different. Counterspy has a more monochromatic look which sometimes helps you to find what you're looking for, but other times gets in the way.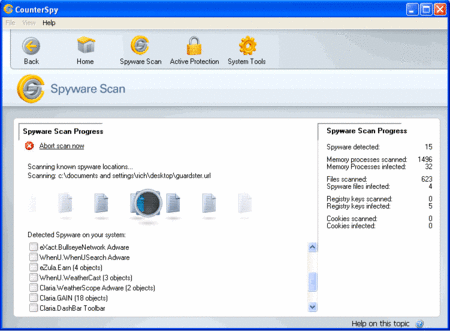 Like it's big brother, it is full of the same annoying usability quirks that make the Microsoft product somewhat difficult to use, such as constant popup alerts, vague descriptions, and a tendency to forget your settings.
Spyware Removal
We ran Counterspy on two infected PCs running a combination of old and new spyware programs. It did not flag any legitimate applications as spyware.
In our spyware removal effectiveness test, Counterspy performed fairly well, coming in with an overall score of 56%. While this score may sound a bit low, it's actually quite good given that we have recently added a number of new spyware programs to our test. Counterspy detected 65% of the spyware we threw at it, disabling 59% of it, and completely removing 12%. This was a bit better than Microsoft's version of the same product, and probably reflects the fact that Counterspy makes use of an additional "SpyNet" network other than Microsoft's.
Rollback
Counterspy allows you to rollback any changes it makes. This is helpful if you have wiped out spyware that is needed by an otherwise useful program (Real Player and Kazaa are typical examples of software embedded with spyware on your PC that wont run without it).
Customer Support
Sunbelt offers better support than Microsoft by including a telephone support line that even home customers can call. This is in addition to online self-help forums and email support.
Other Options
Counterspy includes a scheduler, as well as the same real-time "security agents" offered by Microsoft which protect against homepage hijacking and drive-by installs.
Summary
Although Counterspy is a re-branded version of Microsoft's AntiSpyware product, the product performed slightly better. In addition, Sunbelt Software offers better support and a less expensive offering than other vendors.
Purchase Price: $19.95
Free Trial: Yes
All articles and reviews are copyright 2004, Gooroo, Inc. All Rights Reserved.

Adware Report (https://AdwareReport.com) delivers objective news and reviews about the best and the worst spyware removal products.