Adware Report: GotoMyPC Review
Product: GotoMyPC
Price: $19.95/month (1 PC)
Company Info: Citrix
Editor Rating: 4 stars

Pros
+ Extremely easy to use
+ Works over company firewalls
+ Quickest and easiest remote access software available
Cons
- High resolution displays will update slowly
- Clipboard doesn't transfer between PCs
GotoMyPC Product Review
GotoMyPC is probably the most well-known product that allows you to access one PC remotely from another. With it, you can be at home and use your PC at work as if you were sitting in front of it. It's perfect for use at the airport, Starbucks, or anywhere you can access the internet. So what's the catch? You will probably find the connection to be a little sluggish, certainly not as responsive as being in front of the computer. Nevertheless, this is an excellent software product that meets an everyday need.
Installation
Installation is super easy. Just set up an account at the website, and download the software. You'll need a credit card to try it out and you should be aware that you'll be able to use the system for free for up to 60 minutes of connect time, or 30 days, whichever comes first. This is convenient if you find the program to be of value, but if not, be sure to send a cancellation notice to them using their contact form.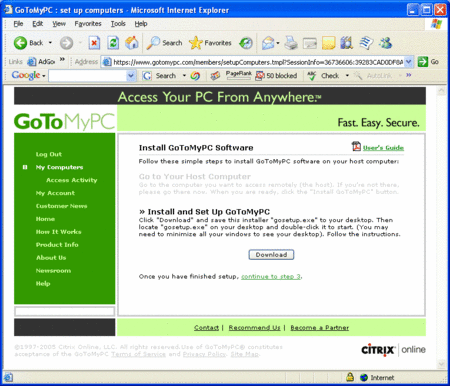 Once you finish setting up your account, you'll be presented with a download link. This installs a small program on your PC which has the hosting software. After that, you'll probably need to reboot your computer and you're done! Total setup time takes less than 5 minutes.
When your computer restarts, you'll see a new icon in the system tray. This icon lets you know that your computer is accessible over the internet.

Connecting
Connecting to your computer is equally easy. Head to their website and login with your account information. If this is the first time you've used GotoMyPC from this computer, you'll have to download a small viewer application.
Once this is done, you'll be connected with your original PC.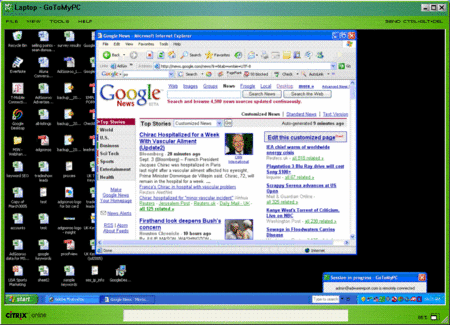 Usability
Overall, we like this program. It is very simple and Citrix wisely decided not to overwhelm us with too many features. The features that are there are minimal and easy to use.
For instance, you'll find all the basics, such as File Transfer: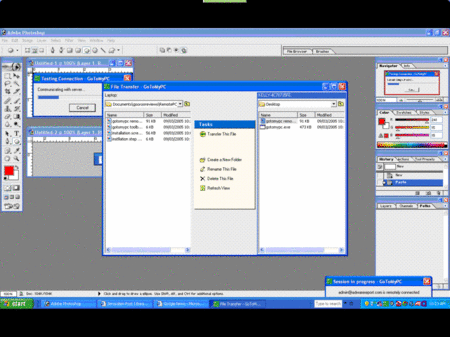 There is also drawing mode, which allows you to draw directly on the screen. This is useful if you are collaborating with someone else on the other end, because it makes it easy to highlight any area you want.
Finally, there is the ability to set up a remote printer. This allows you to print files directly from the remote PC on your local printer. A very handy function for office workers accessing their computers from home.
One drawback with the program is that it can be a little slow. We experienced a 2 second delay after the time that we clicked on links and icons before anything would happen. The problem gets worse with higher resolutions. Nevertheless, this program isn't meant to be used on a continual basis - instead, it allows you to access a remote computer on special occasions, such as when you may have forgotten an important file.
The other feature that was missing was the ability to share the clipboard between computers. This made it difficult to transfer screenshots, or cut-and-paste text snippets from one PC to another.
Other
The great news with this product is that it will work over many company firewalls! This is perfect for office works at larger corporations who maintain tighter security.
Conclusion
Overall, this is a great product. While there are other products available, they can be very difficult to set up or have problems connecting over firewalls. The setup and usage of GotoMyPC is a no-brainer, which makes it one of our top picks.
Purchase Price: $19.95/month for 1 PC
All articles and reviews are copyright 2004, Gooroo, Inc. All Rights Reserved.

Adware Report (https://AdwareReport.com) delivers objective news and reviews about the best and the worst spyware removal products.