Adware Report: SpyZooka 2.4 Review
Pros
+ Fast scan
+ 100% removal guarantee
Cons
- We couldn't get it to remove a single spyware program
SpyZooka 2.4 Product Review
SpyZooka is one of the latest anti-spyware programs to hit the market. The company offers a money-back guarantee if they can't remove 100% of all spyware from your PC within 24 hours, however we couldn't get it to remove a thing from our spyware infested test computer.
Usability
SpyZooka installed without a hitch on our test computer.
A full system scan took less than 2 minutes on our PC. This was extremely quick, and we remain skeptical when an anti-spyware product completes a scan this quickly as it usually means that many files were skipped.
We found some major usability problems with this program. The "scan" buttons are text only and difficult to find. After completing a scan, we minimized the program and it disappeared completely from our desktop (solution: restore it from the system tray). And perhaps worst of all, after a complete scan and removal, there was no status update. The program just returned to the scan results screen. Overall, we found this product to be not nearly as well designed as other anti-spyware programs.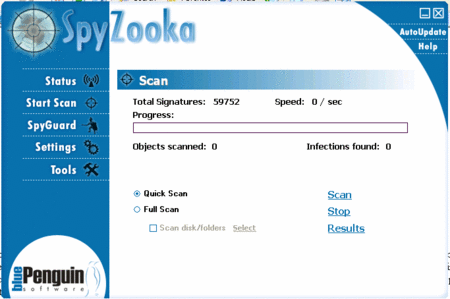 SpyZooka's user interface left a lot to be desired.
Removal
Unfortunately, SpyZooka did very poorly with our Spyware Effectiveness Test. Although it did detect a good number of the spyware programs on our text computer (68%), it failed to remove a single one of them!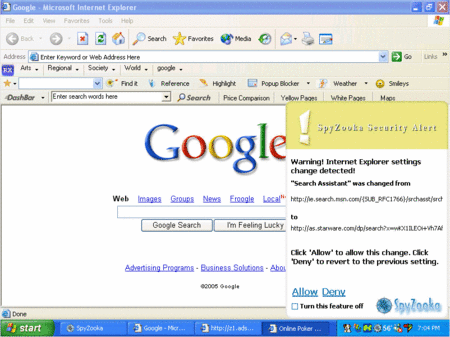 SpyZooka failed to remove even a single toolbar from our seriously screwed up browser.
Rollback
SpyZooka doesn't offer any rollback functionality whatsoever.
Other Options
SpyZooka lacks the most basic functionality, such as a scheduler. It does include a few other system tools, but the average person probably won't make use of these.
Summary
SpyZooka is extremely lightweight. lacking both a scheduler and rollback functionality, and bears the marks of being a brand new product. Although it detected nearly 70% of the spyware on our test platform, it failed to remove any of it. Despite the company's money-back guarantee, we recommend that you shop elsewhere.
Purchase Price: $29.95
Download Now!

All articles and reviews are copyright 2004, Gooroo, Inc. All Rights Reserved.

Adware Report (https://AdwareReport.com) delivers objective news and reviews about the best and the worst spyware removal products.