Adware Report: Spybot S&D v1.4
Pros
+ Free
+ Instability problems from v1.3 cleared up
Cons
- Ineffective against most spyware
- Infrequent updates
- No customer support
- Scheduler doesnt work
Review
Spybot S&D 1.4, a freeware spyware removal tool, provides poor protection against spyware. While it is incrementally better than the previous version, it detected only 41% of our test spyware and disabled only 27% of it. While the serious instability problems of v1.3 seem to have gone away, the bottom line is this program isn't very effective at removing spyware.
Usability
After installing Spybot S&D, you are presented with a 7 step wizard. You should probably agree with most of these steps, as they are generally conducive to the proper functioning of the program (definitely scan for new updates, for instance).
The v1.4 interface is basically identical to the previous version, although the graphics have been cleaned up somewhat (Click here to see screenshots from 1.3). Although the interface isn't as flashy as some other products', Spybot correctly assumes that most people are interested in doing just one thing: removing spyware. They hide all the clutter in the advanced mode. We would have liked to see the scheduler added to the basic mode interface, and this remains a serious ommission in the program.
The first time we ran Spybot S&D 1.4, it failed to find anything on our heavily infested test computer. We had to reboot before the program would work properly.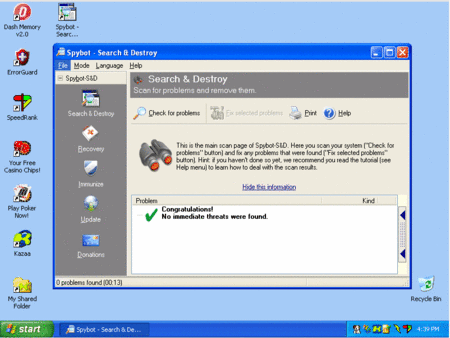 If spyware could laugh, it would've laughed here. Spybot S&D failed to find anything the first time we ran it, despite the many obvious problems on this computer.
Removal
As of October 2005, Spybot S&D detects 30,143 spyware signatures. Spybot experts usually recommend that the program should be run in conjunction with another spyware removal program (typically Adaware) in order to provide reasonable protection, although our tests indicate that Spybot is probably no longer capable of removing anything that AdAware (or other good products) can't.
Spybot v1.4 is still pretty fast (although not as quick as v1.3) - it completed a full scan in about 14 minutes. Unfortunately, it doesnt appear to do a complete scan on your system. Instead, it looks in the most common areas only. While the end result is faster, we would prefer to have a more thorough scan along with the ability to schedule it during off hours.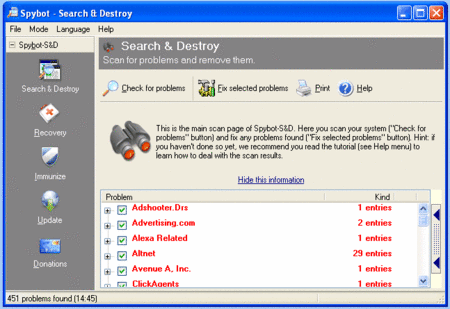 Spybot S&D Results Screen
Spybot S&D v1.4 didn't do a very good job of removing spyware. It detected 41% of the known spyware on our test PC, but disabled only about 27% of it. After three scans and a reboot, there were plenty of toolbars and other nasties still lingering on this computer, as you can see in the screenshot below.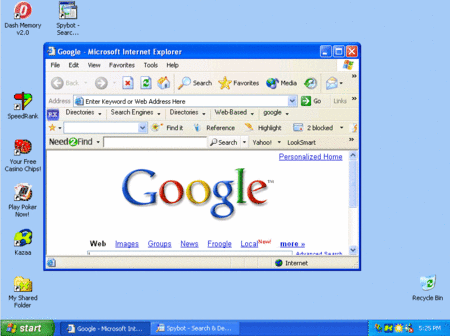 After three scans and a reboot, most of the spyware remained functional on this computer.
Immunization
Spybot S&D provides limited immunization functionality. It does not monitor your RAM or stop browser hijackings in progress. It does purportedly block against about 1,800 browser helper objects that could embed themselves into Internet Explorer, and has an interesting feature to block known bad addresses in the browser, although we question the usefulness of this feature.
Rollback
Spybot S&D does provide rollback capabilities within the program, but in our tests it didnt save all of the tracking cookies that it deleted. However, Spybot S&D does create a checkpoint using Windows XPs system restore functionality, so in a bad situation, you should be able to restore your PC to a previous state.
Other Options
It took us awhile to find the options area (hint: "Mode" menu, then "advanced mode"). This is a nice feature if you want to exercise serious control over the most minute aspects of the program. Our complaint here is that many are trivial or poorly implemented (such as the "skins" functionality). However, one critical feature, the scheduler, didn't work at all on either of our test PCs. We would prefer that the Spybot writers focus their effort on improving the effectiveness of the product rather than including so many bells-and-whistles.
Support
The program was well laid out so a lot of documentation isnt necessary. In addition, Spybot seems to support more languages than any other product we tested.
However, there is the usual complaint with freeware products: non-existent support. If you run into issues with the product, you will have to go online and wade through a developers forum and hope someone there can (and is nice enough to) solve your problem. Support emails to the company went unanswered.
Summary
Spybot S&D v1.4 seems to be little more than a cosmetic upgrade of v1.3. It's effectiveness leaves a lot to be desired and other programs do a much better job of restoring an infected PC. Spybot provides only average protection, infrequent updates, and non-existent support. Lacking so much as a scheduler, this barebones program is hardly worth the download.
Sadly, Spybot S&Ds source code has been appropriated by a number of other vendors who continue to shamelessly market it as their own. Don't fall for this. Check out our list of rogue vendors, and if you were considering purchasing any of the products on that list, don't - either purchase one of our recommended commercial products or at a minimum, download Spybot's offering.
Price: Free
All articles and reviews are copyright 2004, Gooroo, Inc. All Rights Reserved.

Adware Report (https://AdwareReport.com) delivers objective news and reviews about the best and the worst spyware removal products.