Adware Report: ZeroSpyware 2005
Product: ZeroSpyware 2005
Price: $29.99
Company Info: FBM Software
Editor Rating: 3 stars



Download ZeroSpyware 2005




Click for more info
Pros
+ Beautiful user interface
+ Provides good effectiveness against spyware
+ Online support options built directly into program
Cons
- Constant Pop-up alerts
ZeroSpyware 2005 Product Review
FBM Software's ZeroSpyware 2005 sports perhaps the most flashy and attractive user interface of any anti-spyware program we saw. The overall effectiveness is quite good as well, although the usability is marred with far too many pop-up alert windows. A very nice feature of the program is the embedded links to online support built directly into the user interface.
Like other anti-spyare programs, ZeroSpyware 2005 will immunize your computer against common invaders, such as browser hijackers, unwanted search bars, and pop-up advertising programs. We discovered no problems on either Windows XP or Windows 2000, unlike some of the other products which caused serious browser slowdowns on Windows XP.
Usability
By far the most stand-out feature of this product is the beautiful user interface. The program makes use of well-designed icons and presents just the right amount of information in exactly the right places. It is hands-down the most usable and attractive program we've seen in this category.
When you first run the program, you'll be presented with the system status screen. The "Launch Full Scan" button is clearly and obviously placed, and you can easily see the scan schedule and current status of your PC.
The scan window is equally well laid out and you can easily see all the information you could possibly want.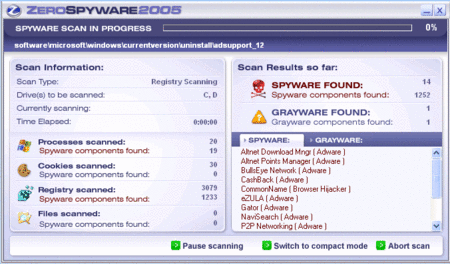 The ZeroSpyware scan window is nicely laid out, as is the rest of the product.
Although you can look no farther and get a lot out of the product, the other tabs have useful features as well. The "Real-Time Protection" tab allows you to view in-memory spyware as well as examine your browser plug-ins. We actually found it necessary to use this tab, as the full system scan would not remove some of the browser toolbars that were installed on our system. The "Spyware Prevention" tab includes useful features such as the "vulnerability scan", which diagnoses common security holes. And perhaps the most useful tab is the "Remote Restore" tab, which allows you to contact customer support. No more hunting for phone numbers! It was nice to see one company doing this right.
All wasn't perfect with ZeroSpyware, however. The program didn't check for any updates until after our first scan and reboot, which forced us to run another scan. And there are way too many pop-up windows, including the ever-present "Alert Manager" window, which continually appears on our system. This window is supposed to alert you to in-memory spyware, which it does. Unfortunately, if the program comes across some spyware but can't remove it, the window will pop up again ... and again ... and again. And unfortunately, this window doesn't give you the ability to "remove all", so if you have 20 or more in-memory processes, you'll be clicking for quite awhile.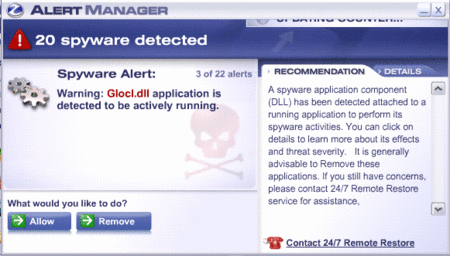 The many alert windows were a big distraction to getting our work done.
Spyware Removal
We ran ZeroSpyware on a test PC infected with many spyware and adware programs, toolbars and other pests. ZeroSpyware did not flag any legitimate applications as spyware. After three scans and two reboots, it detected 78% of all spyware programs and disabled 68% of them, putting it in the upper tier of the products we tested.
A couple of spyware programs really gave ZeroSpyware 2005 a hard time, such as CoolWebSearch and Webhancer. Both of these programs stubbornly remained in memory and continued to reinstall themselves. They constantly triggered ZeroSpyware's alert windows and worst of all, began to cause fatal system errors as it appeared that ZeroSpyware did not disable them properly.
Rollback
ZeroSpyware 2005 allows you to rollback any changes it makes. This is helpful if you have wiped out spyware that is needed by an otherwise useful program (Real Player and Kazaa are typical examples of software embedded with spyware on your PC that wont run without it).
Customer Support
ZeroSpyware 2005 stands out in terms of customer support. No more looking up phone numbers - a link to online customer support is easily found directly in the program. We were impressed.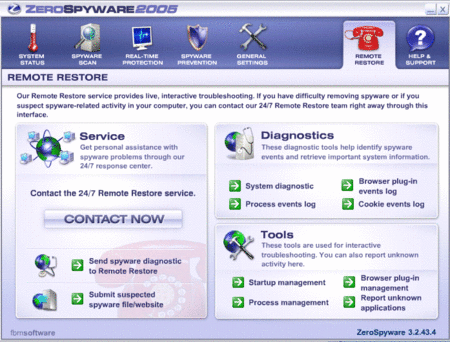 Customer support built right in the program! Can you beat it?
Other Options
ZeroSpyware includes the mandatory scheduler, but it goes much farther. It has a bevvy of system diagnostic tools, including features to diagnose your startup programs, browser BHOs and toolbars, and in-memory spyware. It also includes a vulnerability scan that checks for common security configuration problems, which is a nice touch.
Summary
ZeroSpyware is a very full-featured program and has by far the most attractive and usable interface out of the many products we tested. It is also unique in that it offers a link to customer support directly within the user interface. However, although it scored in the upper tier in terms of sheer effectiveness, it was far from perfect with only a 68% disable rate. We would recommend using this program in conjunction with a more powerful spyware remover, perhaps as an upgrade to Microsoft AntiSpyware.
Purchase Price: $29.99
Free Trial: Yes
Download Spyware Eliminator

All articles and reviews are copyright 2004, Gooroo, Inc. All Rights Reserved.

Adware Report (https://AdwareReport.com) delivers objective news and reviews about the best and the worst spyware removal products.