Adware Report: Spyware Doctor 3.8 Review
Product: Spyware Doctor 3.5
Price: $29.95
Company Info: PCTools
Editor Rating: 4 stars

Download Now!



Click for more info
Pros
+ Very effective against spyware
+ Attractive user interface
+ Easy to use
+ Frequent updates
+ Good customer support
Cons
- Scheduler is hard to find as it's buried deep within the options screens
- Doesn't include system tools useful to expert users
Spyware Doctor Product Review
Spyware Doctor 3.5, the latest update to PC Tools anti-spyware product, offers solid protection against spyware and a number of additional immunization features to block common security holes. It is light on additional features beyond this however, so we recommend that you use it in conjunction with another spyware removal product.
Usability
Spyware Doctor installed without any problems on our test computers.
The user interface is similar to the previous version we reviewed (Spyware Doctor 3.0). It offers three three types of scans quick scan, full system scan, and custom scan. The program defaults to "full scan" mode (the setting we recommend). Just press the "Start scan" button and your computer is inspected for spyware pests, browser hijackers, and other parasites.
The latest version of Spyware Doctor now automatically updates during the first run, fixing a major problem with version 3.2.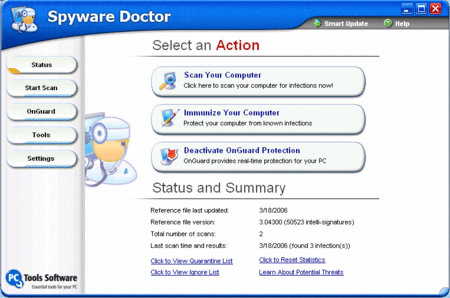 Spyware Doctor 3.5 main screen
Removal
Scanning is vastly improved with the latest release of Spyware Doctor. A full system scan took only 6 minutes on our test PC.
Spyware Doctor detected a whopping 96% of the test spyware we installed, and successfully disabled 81% of it. This was a tremendous improvement over the previous test result from January, and even more impressive considering that we have more than doubled the number of spyware programs that we are now testing against. Spyware Doctor successfully removed notorious threats like CoolWebSearch, SpyAxe, and Spy Falcon. That said, for a "perfect" result, we strongly recommend that you run two spyware removers simultaneously.
Important note on spyware detection: We discovered that the registered version of Spyware Doctor detects far more spyware than the free trial version.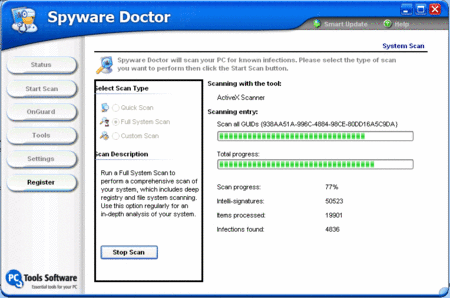 Spyware Doctor scanning in progress...
The scan results screen is much improved in this version of Spyware Doctor. Each of the applications is broken out and a description is provided (if you run the unregistered version, you'll see a rather long log file dump that isn't particularly user friendly. The registered version is much better).
Spyware Doctor results screen. Note: you won't see this screen in the trial version.
As with the previous version, the first time you remove all of the spyware on your PC, it may take awhile depending on how badly infected your computer is. This is a one-time hit though, so it shouldn't be a problem for most users.
Rollback
Spyware Doctor lets you rollback any changes it makes, in case the spyware you removed was required by an otherwise useful program (Real Player and Kazaa are typical examples of programs that embed spyware on your PC and wont run without it).
Other Options
Spyware Doctor comes with a scheduler, but we would have preferred it if scheduling was set up automatically when the program is installed. As it stands now, you'll have to go in to the "OnGuard" settings and scroll down to find the scheduler buried way down at the bottom. The scheduler should be much more prominent.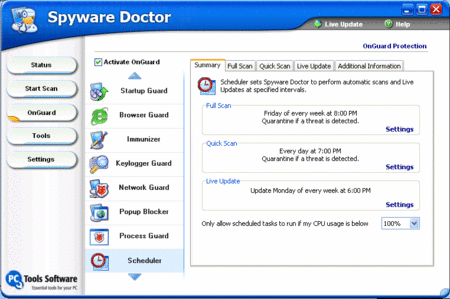 Spyware Doctor 3.5 comes with lots of extra immunizers, but the scheduler is buried deep within the program.
In addition to the scheduler, the product also includes "OnGuard" memory agents which block common security holes, such as ActiveX, phishing sites, pop-ups, browser hijackers, and more. However, if you're looking for advanced tools to diagnose and remove other common nasties like browser toolbars - you'll need to look elsewhere. Spyware Doctor's advanced tools are very light in comparison with ZeroSpyware or even Microsoft AntiSpyware.
Summary
PC Tools Spyware Doctor 3.5 is hands down the winner in our latest round of testing. It detected 96% of all spyware and removed 81% of it, placing it far ahead of second place. There remain a few minor problems with usability (such as the scheduler being very hard to find). Despite its stellar performance, there were still some gaps in coverage so we recommend that you back Spyware Doctor up with another program such as Aluria Spyware Eliminator or ZeroSpyware. This will not only ensure that you are protected from virtually all of the spyware out there, you'll also have access to more customer support and additional tools that are incredibly helpful at removing the most stubborn spyware.
Purchase Price: $29.95
Download Now!

All articles and reviews are copyright 2004, Gooroo, Inc. All Rights Reserved.

Adware Report (https://AdwareReport.com) delivers objective news and reviews about the best and the worst spyware removal products.