Adware Report: Cosmi Spyware Killer Pro
Product: Spyware Killer Pro
Price: $29.99
Company Info: Cosmi
Editor Rating: 2 stars

Purchase Now!



Click for more info
Pros
+ Includes add-on features such as popup blockers and file shredders
+ Fast scans
Cons
- Below average effectiveness against spyware
- Usability quirks
Cosmi Spyware Killer Pro Product Review
Cosmi Spyware Killer Pro is a collection of six PC security utilities designed to eliminated unwanted programs on your PC. However, we found that it had below average spyware removal capabilities and the add-ons were not quite as good as you could get elsewhere for free.
Usability
Spyware Killer Pro installed without any problems on our test computers.
The program is actually a suite of six system utilities, each of which can be launched separately from a main window. It appears that each of these utilities were produced by different companies and then bundled together by Cosmi, as there are leftover brand names scattered throughout the product (for instance, the spyware scanner is called SpyDefender in the updater).
After installation, we were prompted to download updates for the main launcher, but you have to be sure to download updates for each individual program as well.
The user interface is straightforward, with "Scan Now", "Pause", and "Stop Scan" buttons at the upper left and a results grid at the top right. You can also see statistics on the current scan below the grid.
Once the scan has completed, you can proceed to remove the offending spyware. Removal is more complex than it needs to be, however. First, you have to "select all" and then decide if you want to "Quarantine Selected" or "Clean Selected". It's not clear what the difference is (nor should there be any), so we chose "Clean Selected" and proceeded to tally up the testing results.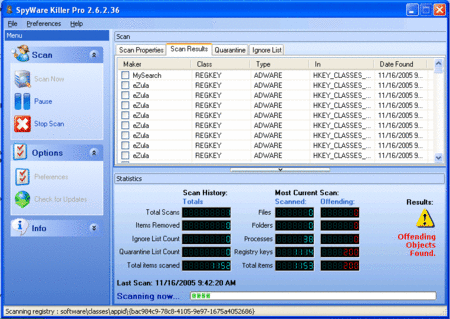 Cosmi's Spyware Killer Pro main screen.
Removal
Scanning was extremely fast, taking just over six minutes on our infected test PC. Haste apparently makes waste, as the results were disappointing: 55% of spyware was detected, with 45% completely disabled... a below average result.
Furthermore, the program also ended up disconnecting our internet connection and leaving us with popup error messages from the partially removed Gain spyware program. While Cosmi Spyware Killer Pro definitely made our computer run faster, we were no longer able to access the internet.
Rollback
The program does allow you to quarantine certain programs if you aren't sure if you need them. This can be useful if you are running software like Kazaa, which won't run without its bundled adware.
Other Options
Spyware Killer Pro comes with other features such as an in-memory spyware detector, a file shredder, popup blocker, junk file killer, and a program that allows you to manage your startup settings. These are useful programs, to be sure, but you can get better versions for free by downloading Microsoft's free anti-spyware product.
Also, Spyware Killer Pro is missing a scheduler, one of the most basic features any spyware remover should have.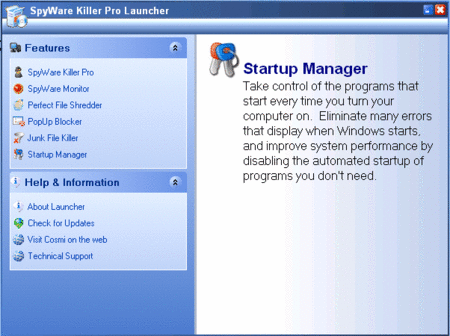 Spyware Killer Pro includes various add-on programs, but they generally aren't as good as what you can find elsewhere for free.
Summary
Cosmi's Spyware Killer Pro removed some spyware but turned in a below-average score on our spyware effectiveness test. Overall, the program feels like a loosely bundled set of third-party products and underdelivers in terms of usability.
Purchase Price: $29.99

All articles and reviews are copyright 2004, Gooroo, Inc. All Rights Reserved.

Adware Report (https://AdwareReport.com) delivers objective news and reviews about the best and the worst spyware removal products.