Adware Report: Spyware Cleaner
Pros
+ Attractive and easy-to-use interface
Cons
- Aggressive selling tactics
- Poor software delivery
- Below average effectiveness
- Sluggish user interface
- Possible false positives
Editor's Update: Spyware Cleaner is now the target of a New York lawsuit alleging that the program makes use of false positives to goad consumers into purchasing the product. The review below was written two months before this lawsuit was announced.
Secure Computer Spyware Cleaner Product Review
We received an email yesterday from a reader who wrote:
"I need your help. I may have gotten scammed. A spyware cleaner program came on my screen, saying it will scan for spyware. It said I had 90 infections, and that I needed to register. Then, they wanted a fee! I purchased it with Visa today, but am having second thoughts. Could you just tell me if [they] are a legitimate business?

-Suzie"
Suzie, we're happy to help. When I read your email, I was very suspicious. A legitimate anti-spyware company would never stoop to pushing their product through popups, as these are delivered through spyware programs themselves.
So I went to the company website only to find that the URL was not found... a very bad sign. I then found a few other websites pushing this product, so I picked one and ordered it. To tell you the truth, I thought long and hard about filling my credit card information on that form, but I guess that's why we're here. We take the risk and test these sites out so that our readers can avoid getting ripped off. Of course, this means I occasionally have to cancel the company credit card.
Anyway, it took a long time to even complete the order as the sales process was filled with screen after screen of "add-on" offers. These included a pop-up blocker (unnecessary, because popup blockers are built into virtually every browser these days), an internet accelerator (useful for dialup users), an anti-spam program, MemTurbo (which is a pretty good program which helps to keep your computer running fast), an extended download service ($9.95), a second license key ($9.95), 1 year priority technical support ($9.95), or an additional license for a friend ($19.95). Then they wouldn't complete the order until we filled out a feedback form about the ordering process.
From here, there was no online registration key or download link. We had to wait three days for a license key. When it arrived, there was no download link and so we had to search on the web to find one.
The good news is that after all this, it turns out this product isn't a scam. The bad news is that it's overpriced and doesn't work that well. Read on for more details.
Installation
The email with our license key did not include a download link and so it was difficult to locate the program. We eventually found it here (http://www.myspywarecleanerdownload.com/freescan.exe).
Usability
Spyware Cleaner has a clean and well-designed user interface. Even the most casual user will have no problem figuring out how to use the software. The software is sluggish at times though, and we experienced long load times.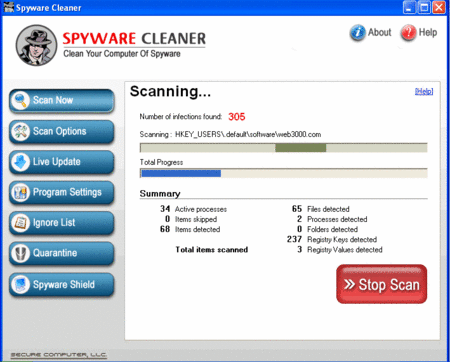 Scanning on our Windows 2000 test computer took only 9 minutes. This was reasonably fast, but as well see next, the impressive scan speed is probably due to a small signature database.
Removal
We ran Spyware Cleaner on two infected PCs running a variety of common applications. Overall, it detected 50% and disabled 36% of the spyware on our system. While this was better than many of the scam anti-spyware products out there, these are still poor results.
One serious problem with Spyware Cleaner is that it did not completely remove a single spyware program from the hard drive. If you have a large hard drive this might not be an issue, but if you are constantly running out of drive space like we are, then every little bit helps.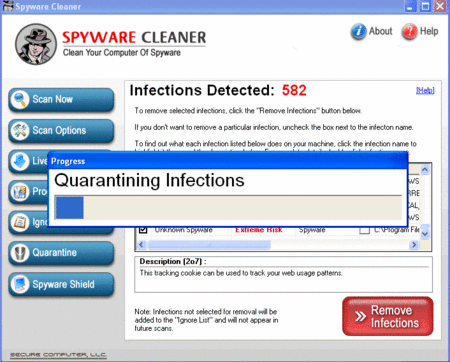 Rollback
Spyware Cleaner does allow you to quarantine and rollback all removed files and registry entries.
Other
Spyware Cleaner has minimal extra functionality but does have a few other features found in most antispyware products, such as a homepage protector. The real-time shield is not really a shield at all, just a periodic scan. And there is no way to set the date or time when scans are performed, a serious omission these days.
Summary
Spyware Cleaner boasts one of the better user interfaces in the market, but the advantages stop there. This product's subpar effectiveness, overly aggressive marketing, and minimal feature set do not justify the high price tag.
Purchase Price: $49.95
Free Trial: Yes
All articles and reviews are copyright 2004, Gooroo, Inc. All Rights Reserved.

Adware Report (https://AdwareReport.com) delivers objective news and reviews about the best and the worst spyware removal products.