Adware Report: Ewido Security Suite 3.5
Pros

+ Attractive user interface
+ Easy to use
Cons
- Ineffective against most spyware
- Frequent popup alerts
- Slow scan time
- Very slow removal time
- No scheduler
Ewido Security Suite Product Review
Installation
The program installed quickly and easily. The latest version now automatically updates when it is first installed, which is the first of many improvements made to the latest version.
Usability
The program is attractive and intuitive. After installing (and updating), click on the "scanner" button to bring up a menu of options, and then select the first option to perform a full system scan. We found the layout of the user interface to be simple and easy to use. The program provides just the right amount of information in the right places.
Although the program is well laid out, the actual operation is confusing. After running a scan, there is no results screen and in fact it appears that the scan never completes. However we did confirm that it does remove spyware despite this confusing behavior. And whether a scan is in progress or not, another memory-resident process is running in the background at all times scanning as well.
Ewido has recently made a major improvement in usability by adding a new option to suppress popup alerts for 30 minutes (long enough to do a scan). Again, this doesn't really help if you perform unattended scans because the program will pause to wait for your input before continuing. Ewido has informed us that they intend to correct this in the next major release.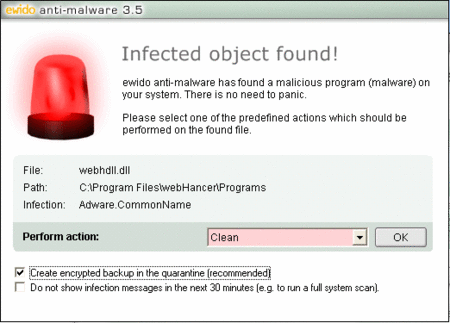 Ewido's alert windows now have an option to temporarily suppress popups during a scan.
Removal
The latest version of Ewido is still quite slow, taking 1 hour and 9 minutes to complete on our test PC (down from over five hours for the previous release). However, removal took even longer - often 10 hours or more. We presume that this is because of the sheer amount of spyware we have installed on our test platform, but we have to point out that most other products don't have this problem.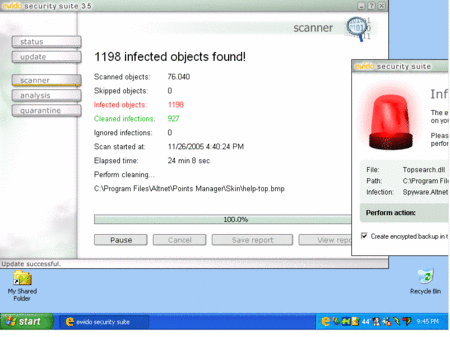 Scan times with Ewido Anti-Malware were among the slowest of the products we've tested.
We were severely disappointed by the decline in effectiveness in the latest round of testing. The latest version of Ewido detected only 38% of the spyware, down from 68% the last time we tested. This is not because the effectiveness of the product has gone down, but rather we've more than doubled the number of spyware programs that we now test against. Of the 38% that was detected, only 19% was successfully removed.
We read on many internet forums that Ewido was effective in removing SpyAxe and its clones. However we were again disappointed. Ewido did remove the latest variant, SpyFalcon, but failed to remove the original version, SpyAxe.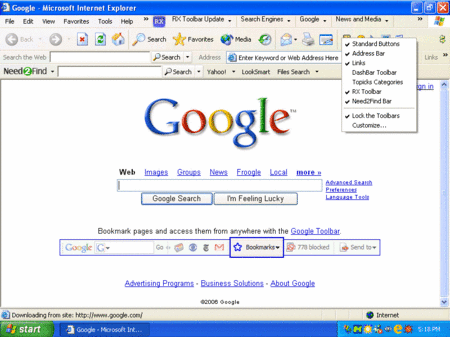 Ewido co-exists peacefully with many common pest toolbars and other malware programs (look in the system tray)
Rollback
The program does allow you to quarantine certain programs if you aren't sure if you need them. This can be useful if you are running software like Kazaa, which won't run without its bundled adware.
Other Options
Ewido Security Suite includes a spyware shield which is useful for detecting and killing offending spyware processes running in memory. However, it comes with little else. It even lacks a basic scheduler, which is badly needed due to the slow scanning time and popup alert windows.
Summary
Ewido has made some improvements with their latest update to Anti-Malware 3.5, but it turned in a very disappointing result in our tests. In addition, continuing problems with popup alerts, slow scan time, and the large demand on system resources takes the shine off what could be a promising product.
Purchase Price: $29.95
Download Now!

All articles and reviews are copyright 2004, Gooroo, Inc. All Rights Reserved.

Adware Report (https://AdwareReport.com) delivers objective news and reviews about the best and the worst spyware removal products.