Adware Report: Spyware X-Terminator Review
Pros
+ Attractive and easy-to-use interface
Cons
- Average level of protection against spyware
- Minimal functionality beyond a scheduler and memory shield
Spyware X-Terminator Product Review
Installation
Spyware Xterminator installed easily enough on our machines. After installation, it automatically downloaded the latest updates. This process stopped and restarted the software several times, and although we had one fatal system error, the program recovered and ran properly afterwards.
Usability
Spyware Xterminator is both attractive and easy-to-use. The main screen is clearly labeled with a bright blue scan button and augmented with other useful statistics (such as the last update time, number of spyware found during last scan, etc).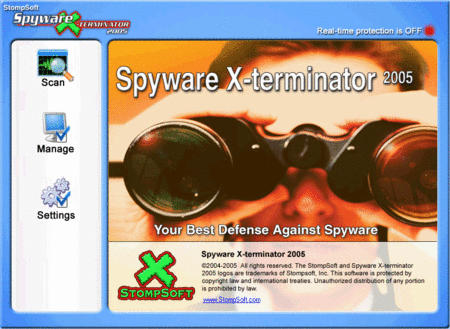 The program has real-time shields in place, so you will likely see an alert window like the following. Fortunately, Stompsoft has added a "quarantine all threats" button so that alerts don't constantly pop up on a severely infected system.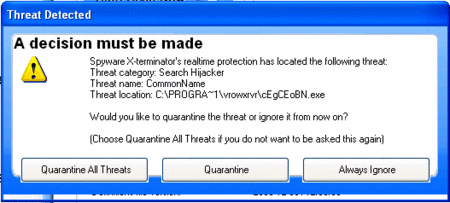 Scanning on our Windows 2000 test computer took 13 minutes. The scan results window feels well-organized and groups each infection together. We did notice a number of duplicate entries however, and there is no way to sort the results so if you are looking for a specific infection, it may be hard to find.
Removal
We ran Spyware X-terminator on two infected PCs running a variety of common applications. Overall, it detected 55% and disabled 50% of the spyware on our system. This was about an average result. It completely removed less than 20% of the disabled spyware, which isn't a big deal unless you are running low on disk space.
We didn't find any false positives in the scan results.
Rollback
Some programs, such as Kazaa and others, ship with bundled adware and won't run without it. Spyware Xterminator provides quarantine and rollback functionality, which is very useful should you accidentally remove a file that these programs require to function.
Other
Spyware X-terminator includes the most important supplemental features, such as a scheduler and memory resident protection. It does not include other nice add-ons such as homepage and startup settings shields.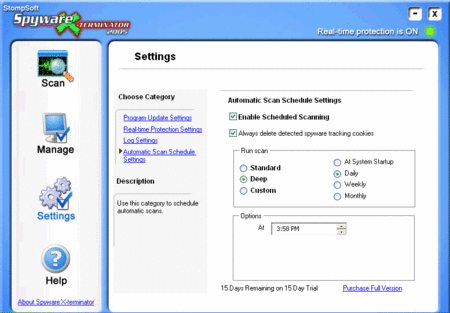 Spyware Xterminator includes a scheduler, but few other additional features.
Summary
Spyware Xterminator is a solid anti-spyware product that provides an average level of protection against unwanted malware. While it does offer an attractive user interface, it doesn't really stand out in any other way.
Purchase Price: $29.95
All articles and reviews are copyright 2004, Gooroo, Inc. All Rights Reserved.

Adware Report (https://AdwareReport.com) delivers objective news and reviews about the best and the worst spyware removal products.