Adware Report: August Spyware Effectiveness Test Results
In our August round of testing, we analyzed seven of the most popular spyware removal products and rated each according to their ability to detect, remove, and completely cleanse a target PC of all spyware.
Test Results
Our results found the top commercial products to be more effective than popular free alternatives. Two products, Aluria Spyware Eliminator and Webroot Spy Sweeper, performed the best of all spyware-removal software tested. Of the free products, Lavasoft Ad Aware removed a significant amount of spyware, while Spybot S&D detected a large amount of spyware but often failed to remove it.
Detection
Our detection test measured the extent to which each product detected the spyware that we had intentionally installed on our test computer.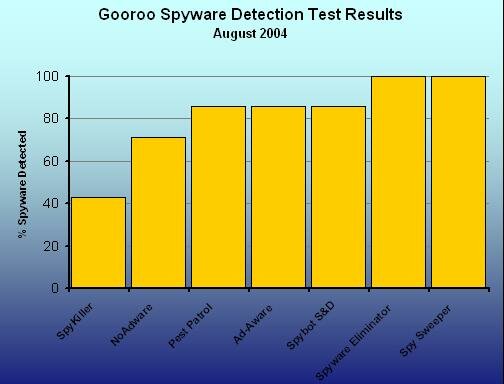 Spy Sweeper and Spyware Eliminator performed the best, but free alternatives, such as Ad Aware, also performed reasonably well. It is perhaps of little surprise that some heavily advertised commercial products such as NoAdware and SpyKiller performed rather poorly.
Removal
The removal test measured the extent that each product successfully disabled our test spyware.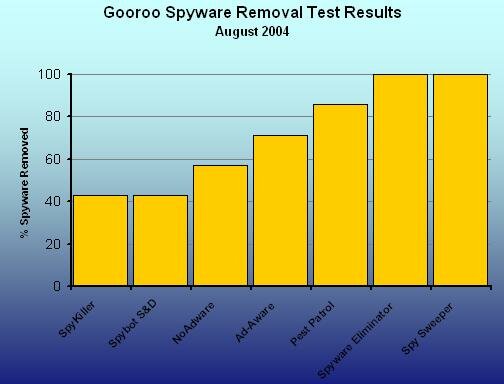 The top commercial products performed much better than the free alternatives, with Ad Aware performing better than Spybot S&D.
Cleansing
The cleansing portion of our test measured the extent to which each product removed all traces of the targeted spyware. This included registry settings and associated text and image files. While these files are harmless (once their host spyware has been disabled), they continue to consume disk space.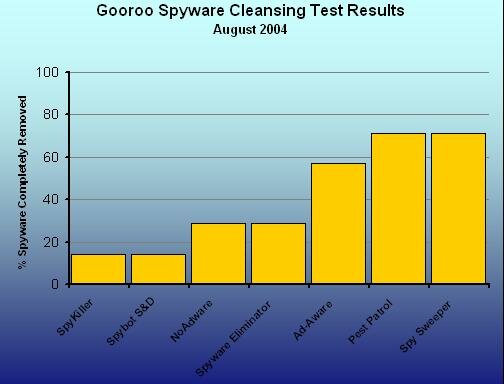 We found that none of the tested products thoroughly removed all traces of detected spyware. Two commercial products, Spy Sweeper and Pest Patrol, performed the best in this regard, while Ad Aware came in third.
Overall
In terms of pure effectiveness, three commercial products, Spy Sweeper, Spyware Eliminator, and Pest Patrol stood out. The latest version of Ad Aware performed well, while NoAdware, Spybot S&D, and SpyKiller coming in last.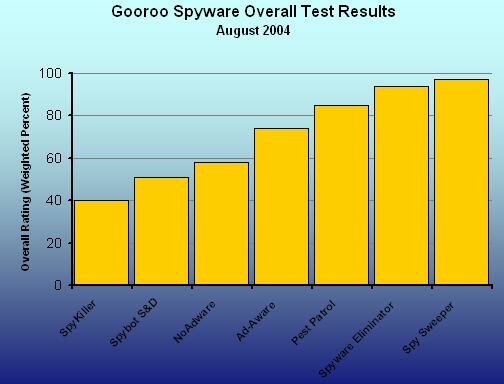 Why This Test Is Useful
This is the first and only test that attempts to provide a fair comparison between different spyware removal products.
Anti-spyware vendors often make use of various marketing measures to bolster their claims of effectiveness. By far the most abused of these is the number of spyware programs protected against measure. While there is some comfort in knowing that your spyware-removal solution will protect against more spyware programs than competing products, this measure doesnt take into account the recency or prevalence of different threats. While an older product may protect against considerably more spyware than a newer one, much of that protection may be against outdated programs that are not as widespread as they once were.
Furthermore, spyware vendors often include multiple traces related to a single spyware program, such as associated html, text, and image files. A single spyware program will typically have as few as one or as many as 40 associated files. Even if your software claims to have 28,000 entries in its signature file, you have no way of knowing if that means you are protected against 700 spyware programs or 7,000.
Finally, another common tactic that vendors use is to count tracking cookies in their spyware counts. Tracking cookies are for the most part harmless snippets of data that websites use to track your usage of their site. While some websites do use them to track your surfing habits (DoubleClick is a prime example of this), the vast majority of cookies are completely harmless.
Our test avoids these problems in comparing different products by testing the effectiveness of each anti-spyware tool against a limited number of known, current spyware programs. Each program is rated for its ability to detect, remove, and completely cleanse these pests from a target computer.
This test does not attempt to capture "soft" aspects of each product, such as usability, price, or the inclusion of various features (such as a scheduler). It merely attempts to provide a fair comparison of raw effectiveness of each product. See our product reviews to compare these aspects of each product.
Click here for more details about our anti-spyware testing methodology.

All articles and reviews are copyright 2004, Gooroo, Inc. All Rights Reserved.

Adware Report (https://AdwareReport.com) delivers objective news and reviews about the best and the worst spyware removal products.