| | | |
| --- | --- | --- |
| NoAdware Review | | |
Pros
+ Attractive and easy-to-use interface
Cons
- Very poor protection against spyware
- High-pressure sales tactics, including use of false positives in their free scan
- May cause legitimate software to stop working
- Many reports of customers being ripped off
NoAdware Product Review
NoAdware is a controversial product. It is heavily advertised on the internet as an effective adware removal tool. Our tests indicate differently however. We uncovered a product that was unable to detect real adware on our computer, and instead tried to fool us with "false positives". Unfortunately, some of the adware programs it claimed to detect were actually operating system files and legitimate software, including Apple's Quicktime player. Even worse, we've recently (November, 2004) received a rash of emails from people claiming that they paid for the software but the product key wasn't sent and they couldn't get refunds. We were extremely disappointed with NoAdware and strongly recommend that you look elsewhere for an effective product.
Installation
NoAdware installed without a hitch on both of our test PCs. Immediately after running the software, the program prompted us to download the latest spyware definition files.
Usability
NoAdware has a well-designed user interface that is simple to use. Even the most casual user will have no problem figuring out how to use the software. While the software had an attractive user interface on Windows 2000, the Windows XP version was plagued with graphics problems (see screenshot).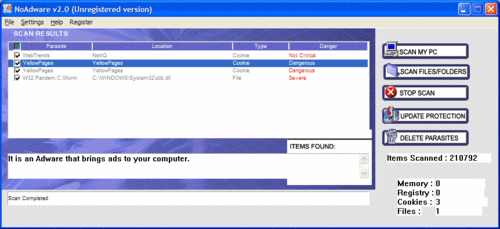 NoAdware suffers from display problems on Windows XP
Scanning on our Windows 2000 test computer took less than 5 minutes. This indicated to us that either NoAdwares definition file is extremely small, or more likely, it is not performing a full search of the hard drive, instead taking short-cuts which usually leave a significant amount of spyware undetected.
Removal
NoAdwares adware removal capabilities left a lot to be desired.
We ran NoAdware on two infected PCs running a variety of common applications. It flagged two legitimate applications (Quicktime movie player and zlib.dll, a component used by Windows to decompress zip files) as spyware. Allowing NoAdware to remove these files would have caused problems with both Quicktime as well as with Windows.
Furthermore, NoAdware triggered a number of other false positives on both of our test beds. Specifically, it claimed that Flingstone Bridge and Hotbar existed on a brand new installation of Windows 2000. It also claimed that a number of harmless cookies were dangerous adware.
In our first tests of NoAdware several months ago, it failed to catch any of the test spyware that we had installed on our machines. However, the latest version removed only 39% of the spyware programs in our test. While this is a significant improvement over our initial tests, this is still quite low for a commercial product.
Rollback
NoAdware does not allow rollback or quarantine. This feature is necessary in case you inadvertently remove a program that is not spyware (such as Quicktime). Without this feature, NoAdware could potentially cause serious problems on your PC that you won't be able to recover from.
Other
Internet spyware experts have long claimed NoAdware is a "rogue" software product. While these experts can often be overly alarmist, we feel that their warnings that NoAdware makes use of aggressive and deceptive advertising should be heeded. For an extensive list of rogue software, check out Spyware Warrior.
Conclusion
NoAdware is extremely light on features and provides basic scanning and removal capability only. It lacks helpful (and arguably even necessary) features that other products include, such as a scheduler that allows you to scan your computer at night when youre not around.
Summary
NoAdware provided some protection against spyware but could very likely cause stability problems on your PC due to its tendency to flag system files and other applications as spyware. The free scanner is ripe with false positives which could either be a high-pressure sales tactic or merely bad programming. Either way, we suggest you look elsewhere.
Purchase Price: $29.95
Free Trial: No, but the company does offer free scanning to determine the extent of spyware on your computer.
All content copyright 2004, Gooroo, Inc. All Rights Reserved.
Adware Report | Site Map | spyware reviews | Recommended Books...