Adware Report: NoAdware 4.0 Review
Pros
+ Attractive and easy-to-use interface
+ Above average effectiveness against spyware
Cons
- Caused Internet Explorer to stop working
- Sluggish user interface
- Long scan time
NoAdware Product Review
NoAdware has come a long way since our last review. With vastly improved search results and customer support, the 4.0 version is now one of the better anti-spyware products on the market and we can safely change our recommendation from "stay away" to "worth a look".
Installation
NoAdware installed without a hitch on both of our test PCs. Immediately after running the software, the program prompted us to download the latest spyware definition files.
Usability
NoAdware has a well-designed user interface that is simple to use. Even the most casual user will have no problem figuring out how to use the software. The graphics problems we experienced with previous version appear to be fixed. One problem we still experience however is that the user interface is a bit sluggish, often taking 15 seconds or more to respond to user input.
NoAdware has a simple and easy-to-use interface.
Scanning on our Windows 2000 test computer took 32 minutes. This was on the slow side, but it does indicate a vastly improved signature database.
Removal
We ran NoAdware on two infected PCs running a variety of common applications. Overall, it detected and disabled 54% of the spyware on our system. We didn't notice any false positives in the scan results with the registered version.
While these results were above average, we did notice that NoAdware 4.0 doesn't do a particularly good job of recovering disk space. Most of the spyware files, although disabled, were still sitting on our hard drive. If you have a large hard drive this probably won't be an issue, but if you are constantly running out of drive space like we are, then every little bit helps.
We did experience one serious problem with NoAdware. After a complete scan and reboot, our Internet Explorer would no longer work. We were now unable to surf the web because one of the two remaining toolbars was crippled, but not completely uninstalled.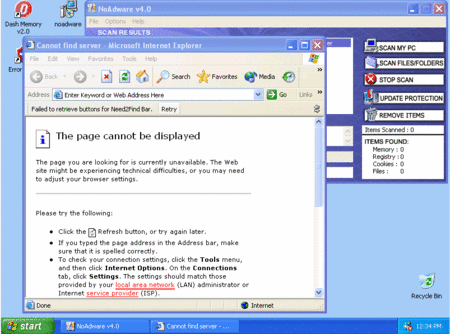 An incomplete removal of two IE toolbars left our browser unusable.
Rollback
NoAdware does allow you to create a backup of all removed files and registry entries.
Other
NoAdware 4.0 has some new features such as scan scheduling and ActiveX shields. We found these add-ons to be rudimentary.
One notable new feature is the memory-resident spyware shield. Similar to those offered by other programs, this feature keeps an eye open for spyware trying to install invisibly in the background.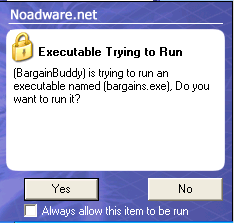 Summary
While still light on features, NoAdware 4.0 represents a significant step forward from previous versions. It now provides better protection than such industry heavyweights like McAfee and at a reasonable price. That said, the additional features are not as well executed as in other products and we experienced a critical problem with our browser after scanning.
Purchase Price: $29.95
Free Trial: Yes
All articles and reviews are copyright 2004, Gooroo, Inc. All Rights Reserved.

Adware Report (https://AdwareReport.com) delivers objective news and reviews about the best and the worst spyware removal products.