| | | |
| --- | --- | --- |
| Trend Micro AntiSpyware 3.0 | ? | ? |
Pros
+ Includes CWShredder removal tool for About Blank/CoolWebSearch + Attractive user interface + Quick install and setup + Includes module to remove activity traces from your PC
Cons
- CWShredder didn't remove our version of CoolWebSearch
- Largely ineffective against spyware
- Slow scans
Trend Micro AntiSpyware Product Review
Trend Micro AntiSpyware is a promising spyware removal product because of its inclusion of CWShredder, the once-popular (and effective) utility to disable and remove CoolWebSearch. However we found that not only did this product underperform in terms of overall coverage, but it failed to remove the latest version of CoolWebSearch.
Usability
Trend Micro AntiSpyware installed easily without any glitches. The only complaint we have about the installation process is that the program is nearly impossible to find on their website (our download link points to the right page, however).
After starting the program for the first time, it immediately initiates a scan without any user intervention. This worked quite well and will ensure that even the most novice computer user can use the program effectively.
The rest of the program seems polished in terms of appearance, but there are usability problems. For instance, the scan results have little useful information and are uncategorized, so if you don't want to blindly follow the program's recommendations, you have to sift through a long list of cookies, spyware, and registry entries. You also have to be careful to click on "select all" before clicking the "delete" button, or nothing will be deleted.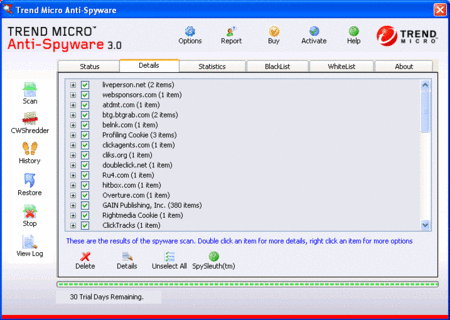 Trend Micro Antispyware scan results screen
Removal
The program was quite slow in scanning and removing spyware, taking nearly 30 minutes to complete a full scan.
Trend Micro is a reputable software company and this is a fairly well designed product, so it was disappointing to get such poor removal results; it detected only 36% and disabled only 23% of the spyware on our test PC.
One spyware program that we were surprised to see was still running after the scan was CoolWebSearch. This evil little program is probably the most sophisticated, pervasive, and resilient spyware software ever created. It is in fact so difficult to remove that a free utility called CWShredder was created for the sole purpose of disabling it. Trend Micro purchased the rights to CWShredder and bundled it into their antispyware product, but apparently have not kept it up-to-date as it failed to disable the instance of CoolWebSearch running on our PC.
Rollback
The program does allow you to quarantine certain programs if you aren't sure if you need them. This can be useful if you are running software like Kazaa, which won't run without its bundled adware.
Other Options
Trend Micro AntiSpyware 3.0 includes both a memory-resident spyware shield (cleverly called "Venus Spy Trap") and a module to clean up traces of activity on your computer. Both modules seemed to work quite well, although we found the history eraser to be somewhat complex to use.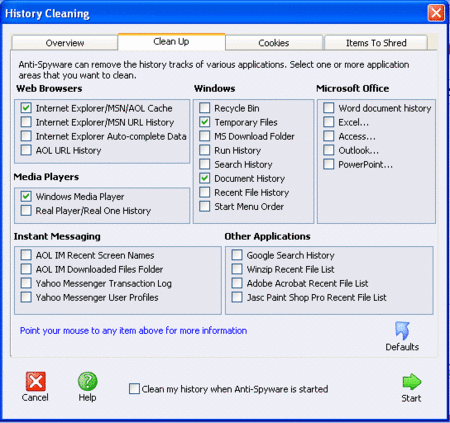 Trend Micro AntiSpyware includes a powerful history eraser, but it is complex to use.
Summary
Despite the solid reputation of the company behind it, Trend Micro AntiSpyware falls short. It failed to remove most of the spyware on our system, and even the bundled CWShredder module didn't detect or disable the version of CoolWebSearch running on our test PC.
Purchase Price: $29.95

All content copyright 2004, Gooroo, Inc. All Rights Reserved.
Adware Report | Site Map | spyware reviews | Book List