| | | |
| --- | --- | --- |
| SpyKiller Review | | |
Product: SpyKiller 6.22
Price: $49.95
Company Info: Swanksoft
Editor Rating: 1 star

Download SpyKiller



Click for more info
Pros

Cons
- High-pressure sales tactics, including use of false positives in their free scan
- Does not provide any details about the spyware it detects
- Very poor protection against spyware.
SpyKiller Review
SpyKiller is a barebones spyware removal tool that provides little more than the most basic detection functionality. It does not provide detailed scan results and so we werent able to conclusively determine its effectiveness. However, follow-up tests on clean PCs indicate that SpyKiller may be finding false positives in an effort to goad users into purchasing the product.
As of July 2004, Spy Killer claims to protect against 17,899 items.
Installation
SpyKiller installed without any problems on both of our test PCs. It loaded the latest spyware definitions immediately after starting the program for the first time.
Usability
SpyKillers user interface was simple, although nowhere near as attractive as other products. A large Scan Now! button made it very clear what we needed to do.
Scanning on our Windows 2000 test computer took 10 minutes, and nearly 45 minutes on our Windows XP machine. The majority of the time was spent deep scanning the registry, while relatively few actual files were scanned. This is surprising given that SpyKiller claims to protect against nearly 18,000 definitions. It is possible that SpyKiller is taking short-cuts which often leave a significant amount of spyware undetected.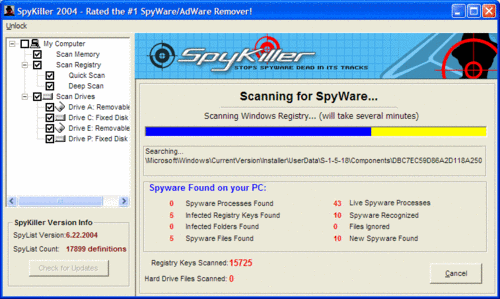 Removal
SpyKiller initially appeared to be very promising. On our Windows XP machine (loaded with test spyware), Spy Killer claimed to have found 43 spyware processes running in memory (highly suspect as had only installed 30) and 10 spyware files on disk. Of the 30, it had correctly identified 10.
So to be sure, we decided to try SpyKiller on a brand new installation of Windows 2000. This time, SpyKiller claimed to find 45 spyware processes running in memory and again, 6 files on disk. We attempted to verify this with a fresh copy of Webroots Spy Sweeper (installed from CD) and found that the box was almost perfectly clean (with the exception of Microsofts harmless Alexa toolbar registry entry).
Given our second test on a clean PC, we are led to believe that Spy Killer is making use of false positives to spur people into buying their product. Buyer beware.
Rollback
SpyKiller does not allow rollback or quarantine. This feature is necessary in case you inadvertently remove a program that is not spyware (such as Quicktime). Without this feature, you may end up inadvertently breaking your other software and have no way to fix it.
Other Features
SpyKiller is missing a scheduler, which means you will not be able to schedule scans during off-hours, such as at night when you are away from the computer. Nor does it provide detailed scan results or information about the spyware it finds on your PC, very nice features which are included with our top picks.
Summary
While SpyKiller did detect some spyware in our tests, follow up tests on clean PCs indicate that it triggers false positives, possibly to pressure customers into purchasing the product or simply due to faulty programming. Given the uncertainty of the product as well as the high price, we suggest you look elsewhere.
Purchase Price: $49.95
Free Trial: No, but the company does offer free scanning to determine the extent of spyware on your computer.
Back to top of SpyKiller review
All content copyright 2004, Gooroo, Inc. All Rights Reserved.
Adware Report | Site Map | spyware reviews | Recommended Books...