| | | |
| --- | --- | --- |
| Norton Personal Firewall | ? | ? |
Pros
+ Blocks incoming attacks
+ Monitors outgoing communications
+ Attractive user interface
+ Blocks some internet ads
Cons
- Aggressive selling tactics
- Runs slowly on dialup connections
- Repeatedly pops up alerts when new wireless networks are detected
Norton Personal Firewall Review
Available as a standalone product or as part of the Norton Internet Security Suite, Norton Personal Firewall is a good firewall package that will protect you from both incoming attacks and outgoing communications. It also blocks some internet ads, but it won't block cookies, hostile internet sites, or suspicious file attachments. Aggressive selling practices and an expensive yearly subscription model keep this from being a top pick.
Note: Firewall products protect against different threats than anti-spyware and anti-virus programs, and you should always run a firewall in addition to those other types of security products. Click here for more information about firewalls.
Installation and Configuration
Installation is relatively staightforward, although if you are on a dialup connection, you can expect downloading, installation, and updating to take well over three hours.
One problem that we have with Symantec is that much like McAfee, they make use of "opt-out" email lists and cart stuffing. If you do purchase this product, Symantec will tack on an additional $6.99 "extended download" fee. The fee buys you nothing more than the ability to download the product for a longer period of time from their servers. Be sure to remove it from your cart and make a backup copy of the software, and you can save yourself a few bucks.
Usability
This program has some beautiful graphics. Like other firewall products, expect to see some alert windows pop up for a few minutes after you install the program. This is normal. What isn't normal however, is that Norton Personal Firewall will pop up an alert whenever a new wireless network comes within range. This can be a severe annoyance if you use your computer on the road or in a crowded urban environment.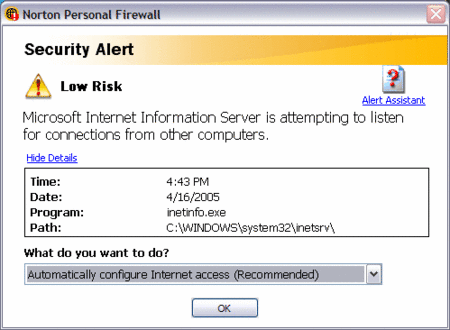 Other Features
One nice feature of this program is that it seamlessly blocks many ads from pages in your browser (it won't block text ads, however). We would have liked to see more features, such as the ability to block hostile internet sites or tracking cookies.
Summary
While Norton Personal Firewall has a few minor quirks, it's otherwise a very good program. However, it lacks some additional features you can find in other products and is a bit expensive for what you receive.
Price: $49.95
Free Trial: NO
All content copyright 2004, Gooroo, Inc. All Rights Reserved.
Adware Report | Site Map | spyware reviews | Recommended Books...