| | | |
| --- | --- | --- |
| Norman Personal Firewall | ? | ? |
Product: Norman Personal Firewall
Price: $52.48
Company Info: Norman
Editor Rating: 2 stars

Free Trial: Yes
Pros
+ Blocks incoming attacks
+ Monitors outgoing communications
+ Provides some additional protection above the basics
Cons
- 1 year subscription only (not a permanent license)
- Too complex for most internet users
- Configuring rules is too difficult
Norman Personal Firewall Review
Norman Personal Firewall (not to be confused with Norton Personal Firewall) has some decent power under the hood, but it will be a very difficult program to use if you're not a technical expert. The price of this program is also prohibitive.
Note: Firewall products protect against different threats than anti-spyware and anti-virus programs, and you should always run a firewall in addition to those other types of security products. Click here for more information about firewalls.
Installation and Configuration
Installation of the program was simple enough, although there is a series of windows called a "learning course" that you must navigate through to get up and running. The program is very lightweight, so it will work well over a dialup connection.
Usability
This is where the program's weaknesses began to show. After installing and running for the first time, we were presented with a number of alert windows asking us if we wanted to allow certain connections. While this is typical of most firewall programs, what is not typical is that the alert popups were vague and contained no information about the connection in question: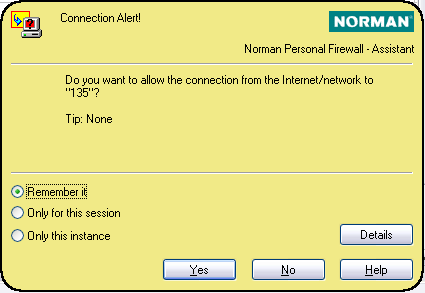 Norman's popups didn't give us enough information about the connections in question. What is connection "135"?
Even worse, no matter what we chose to do with the connection (Allow or Block), we were forced to complete a 3-step wizard in order to continue using our computer. We had to uninstall Norman after about 30 minutes of using our computer because of this problem.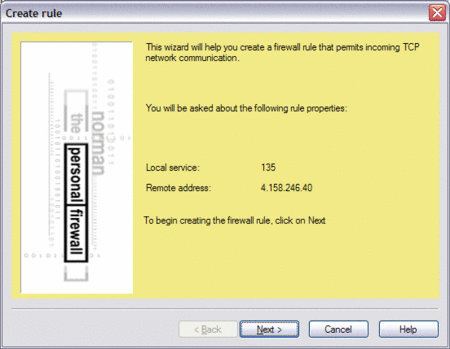 You're forced to navigate through an annoying 3-step wizard every time a new connection is detected.
Other Features
Norman has some nice features buried in the program, but for the most part, these will only be of interest to the overly-technical or overly-paranoid. Norman will block cookies, javascript, java applets, activeX controls, and pop-up windows. It will even block the referrer parameter sent to websites while you surf, preventing them from seeing where you came from. Strangely, it doesn't block internet ads or hostile websites, which would be far more useful features.
Summary
While it has a few nice features built in, Norman Personal Firewall is almost unusable because of vague popups and annoying wizards. The complexity of this program puts it out of reach of most internet users, and it's certainly not worth the high price.
Price: $52.48
Free Trial: Yes
All content copyright 2004, Gooroo, Inc. All Rights Reserved.
Adware Report | Site Map | spyware reviews | Recommended Books...