| | | |
| --- | --- | --- |
| Injoy Firewall | ? | ? |
Pros
+ Blocks incoming attacks
+ Monitors outgoing communications
+ Can be administered remotely from anywhere in the world
+ Supports multiple platforms, including Linux

Cons
- Does not support wireless connections
- Extremely difficult to use

Injoy Firewall Review
Targeted to network engineers, this is not a suitable product for home or personal use. While it does provide enterprise-level defense against hackers, it is extremely difficult to use. It also seems to work only with physical networks - if you use a wireless connection, this product won't work for you.
Note: Firewall products protect against different threats than anti-spyware and anti-virus programs, and you should always run a firewall in addition to those other types of security products. Click here for more information about firewalls.
Installation and Configuration
Installation was so difficult that we literally needed to call in a computer engineer to install the product. There is no professional installation script (the standard these days). Instead, you need to extract the entire product from a zip file, locate the proper DOS script, and answer a series of complex technical questions. While this certainly has its use in the right environment, this is not a product intended for mainstream computer users.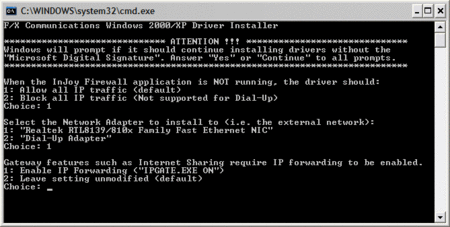 Injoy has the most complex installation procedure of any product we tested
Usability
Running the program was no easier. It took us a while to discover that there are actually two programs that need to be executed in order to work (a "client" and a "server"). The server program is meant to be run on a dedicated PC connected to the internet. The client can be run on the same machine, or it can be executed on any other PC connected to the internet. This is a big advantage for network engineers who need to remotely administer geographically dispersed networks, but not at all helpful for home users.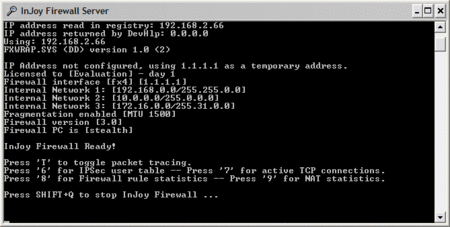 Injoy's server program is run separately from the client software
Confused yet? We were, but it gets worse. When we ran the client software, we were greeted with no fewer than eight windows.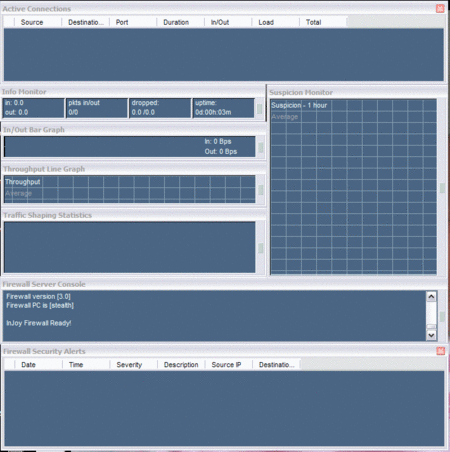 It was at this point we realized that Injoy wasn't protecting our wireless connection, which makes it useless for many home users.
Other Features
Injoy does have other features such as deep data inspection, multiple platform support (useful for networks with mixed Linux and Windows servers), and remote administration. None of these features will be useful to the typical home user or small business user, however.
Summary
Injoy is a powerful firewall product suited for large, high-security networks such as the ones global corporations might employ. It is not useful for home or small business users who don't have a dedicated IT staff.
Price: $30.00 - $5000.00
Free Trial: NO
All content copyright 2004, Gooroo, Inc. All Rights Reserved.
Adware Report | Site Map | spyware reviews | Recommended Books...