| | | |
| --- | --- | --- |
| New Fake Anti-Spyware State Tries To Infect Your Computer and Take Your Money | ? | ? |
Just discovered another hostile/scam website at securitycaution.com (WARNING: DON'T CLICK UNLESS YOU ARE PROTECTED AGAINST SPYWARE).
This website claims you are infected with the worm W32.Sinnaka.A@mm and points you in the direction of a couple of anti-spyware removal tools. We haven't tested these, but they are likely scams.
This website is allegedly infecting visitors' computers using the Microsoft WMF exploit.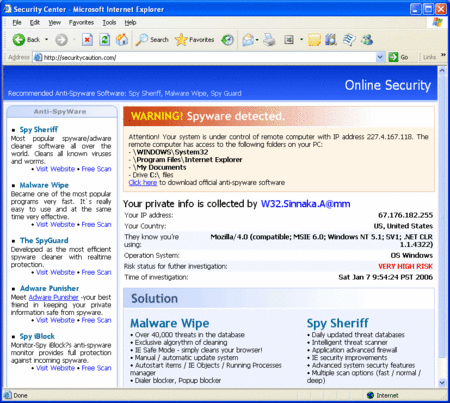 This screenshot is safe to click
All content copyright 2004, Gooroo, Inc. All Rights Reserved.
Adware Report | Site Map | spyware reviews | Recommended Books...